Solution From Full-Service Provider infsoft Creates Optimal Workplace Environment
Intelligent sensors enable real-time visualization and continuous monitoring of the room climate. In addition, "infsoft Room Environment" provides the foundation for more efficient energy management.
Busy offices do not always offer a good indoor climate. As a result, employees may experience discomfort and a lack of concentration. To optimize working conditions and improve overall well-being, infsoft has developed "infsoft Room Environment", a solution that uses unobtrusive, low-maintenance hardware and powerful software to help maintain an optimal room climate. In addition, the solution helps monitor and optimize energy consumption in the building.
Sensor Data Monitoring
Ongoing monitoring of sensor data that characterize the quality of the office environment, as well as alerting when thresholds are reached, ensure a healthy working environment and timely response to unwanted deviations. Parameters that can be monitored include ambient temperature, humidity, carbon dioxide levels, and illuminance. Bluetooth beacons with integrated sensor technology for recording ambient data ("sensor beacons") are used for this purpose. A consistent, optimal indoor climate can serve as an important measure for businesses to promote employee health and increase productivity.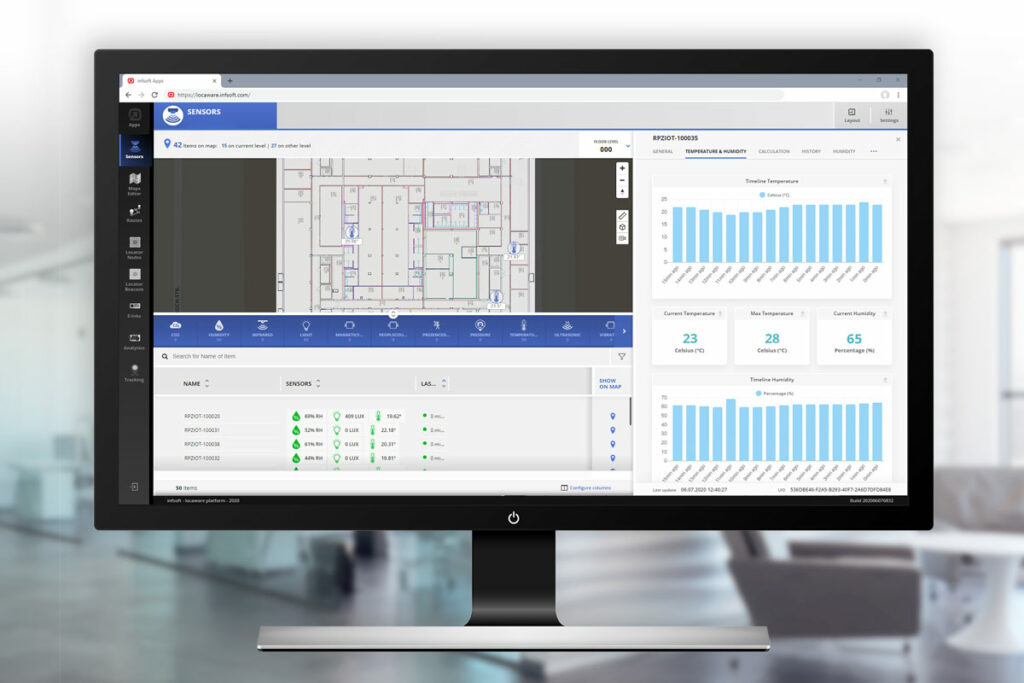 BLE Plug for Efficient Energy Management
A useful addition to the surveillance of sensor data is the monitoring of energy consumption. For this purpose, infsoft provides intelligent Bluetooth Low Energy plugs that record the power consumption of electrical consumers in the office and transmit it wirelessly to infsoft's software tools. The data that can be viewed here creates transparency in terms of electricity consumption and costs.
Data Analysis and Room Climate Control
In the infsoft LocAware platform®, current and historically accumulated sensor and consumption data can be compared with selected time periods. This makes it easy to identify equipment with high power consumption or, for example, rooms with inefficient heating curves. With regard to electricity consumption, it is possible to see exactly how much energy and what costs have already been saved. In addition, energy-saving profiles can be stored that take individual or all devices off the grid – for example, in the evenings, on weekends, or during vacation periods. The sensor and consumption data can also be integrated into a mobile app.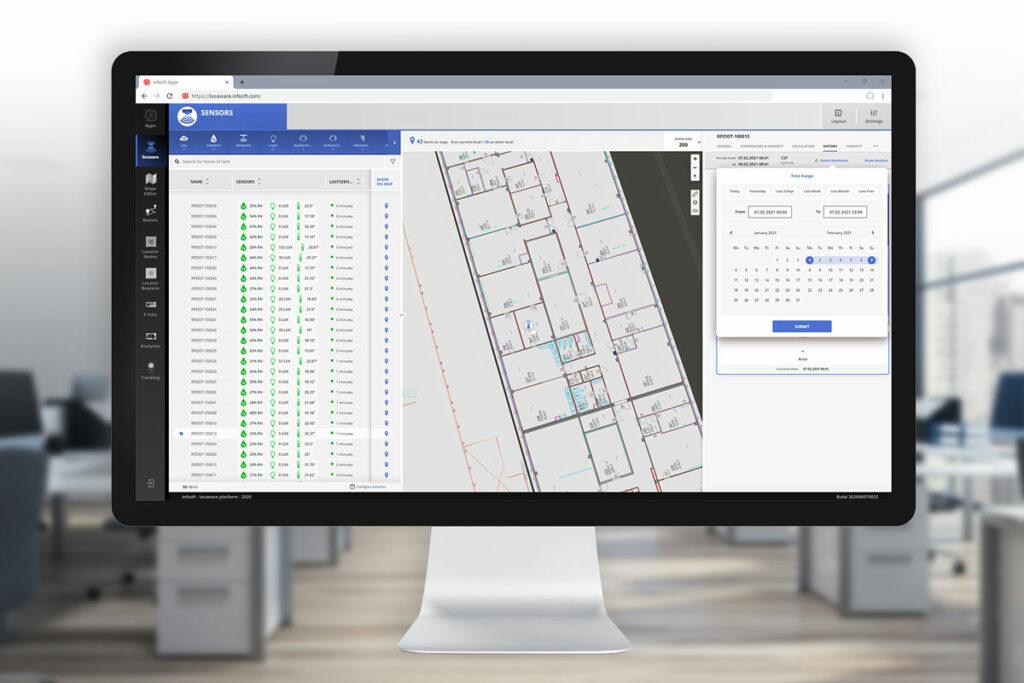 A decisive advantage is offered by interfaces provided by infsoft that enable connecting the building's HVAC control system. Thanks to these interfaces, adjustments to the room climate can be made via web-based software or the app. In this way, comfort-relevant changes such as temperature control can be implemented quickly and effectively. In addition, the room climate can be automatically adjusted when predefined thresholds are exceeded.
For more information on "infsoft Room Environment" including some cost examples, please visit www.infsoft.com/room-environment.
DOWNLOAD