Indoor Positioning Using LoRa / BLE Tags
Functionality of LoRa / BLE Tags
There are two possibilities for indoor positioning with LoRa / BLE tags: The tags can either be attached to the mobile assets or function as fixed anchors distributed evenly throughout the building.
In both cases, in addition to the LoRa / BLE tags, Bluetooth Low Energy (BLE) beacons are required for positioning. The LoRa / BLE tags transmit the location data via LoRaWAN (Long Range Wide Area Network) to the infsoft LocAware platform®. The LoRa network operates in the 868 MHz frequency band. Depending on the amount of data and the spreading factor, transmission is only possible with higher latencies (approx. 30 seconds to 5 minutes), which makes the technology unsuitable for live tracking systems. The position of the LoRa / BLE tag is calculated in the backend and provided via web services.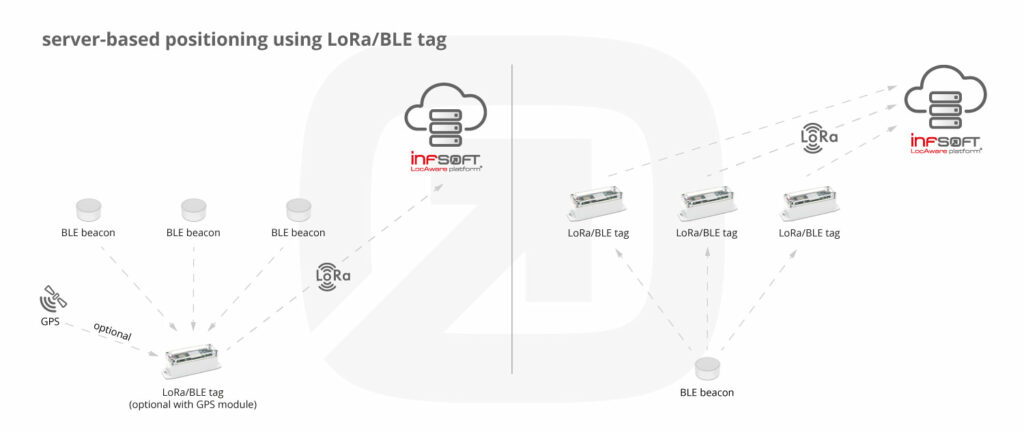 In the first scenario (mobile LoRa / BLE tags), evenly distributed beacons are necessary. Since beacons are relatively cheap (3-30 Euros) and easy to install (can be glued to walls/ceilings, battery-powered), they are especially suitable for large areas with just a few items to track. The tag itself is battery-powered or can be operated by electricity. It is adhered to the object to be tracked. The beacons installed in the building can also be used for precise indoor navigation, for example for employees and clients. In order to make use of indoor navigation, an app is necessary. Hence, this option is interesting for all application scenarios in which relatively few objects should be tracked on large areas and a beacon infrastructure already exists or indoor navigation is an interesting additional feature. The LoRa / BLE tag can optionally be equipped with a GPS module for localization in outdoor areas.
In the second scenario (fixed LoRa / BLE tags), the tags are distributed evenly throughout the premises, while the BLE beacons are attached to the assets to be tracked. Due to the low cost per beacon (and thus per asset), this method is particularly suitable for smaller areas with a high number of assets. LoRa / BLE tags are battery-powered and can also be installed outdoors. The advantage here is that the tags do not have to be wired and there is no need for a power supply or individual connection via Ethernet or Wi-Fi. With a large number of assets, latency times are lower the more LoRa / BLE tags are installed.