Visitors often find it difficult to find their way around complex, spacious building areas. They wish to reach their destination without any obstacles, even when faced with challenges such as a last-minute room change. German full-service provider infsoft ensures better orientation in buildings with the help of native apps, progressive web apps and/or touchscreen kiosk solutions.
With infsoft Wayfinding, infsoft has developed a solution that allows users to familiarize themselves with a location in advance and, if necessary, be guided through the building during their visit. The product can be used in locations such as hospitals, airports, train stations and office complexes, and works across indoor and outdoor areas. The solution includes a site map, an overview of points of interest (POI) and, for native apps, real-time indoor navigation.
Wayfinding via App
An indoor navigation solution can be used in a number of ways. Probably the best-known method is the use of a native app, which allows the user to navigate through the building. The positioning is based on Bluetooth Low Energy beacons – small radio transmitters that are installed at regular intervals in the building and send out signals. These Bluetooth signals are received by the user's mobile device and interpreted by the app to calculate the position. Built-in smartphone sensors can further improve positioning accuracy.
A navigation app can include numerous features. The user can select a destination and be guided there via turn-by-turn instructions. Furthermore, information on various points of interest (POI) can be called up – including pictures, opening hours and contact information.
Implementation Options
Depending on the customer's requirements and the conditions at the location, infsoft Wayfinding can be implemented not only as a native app but also as a progressive web app or as a stationary touch terminal. It may also prove useful to combine the applications. For office environments, infsoft Wayfinding can also be integrated into a workplace experience app – an app that provides office users with valuable features in areas such as mobility, room booking and networking.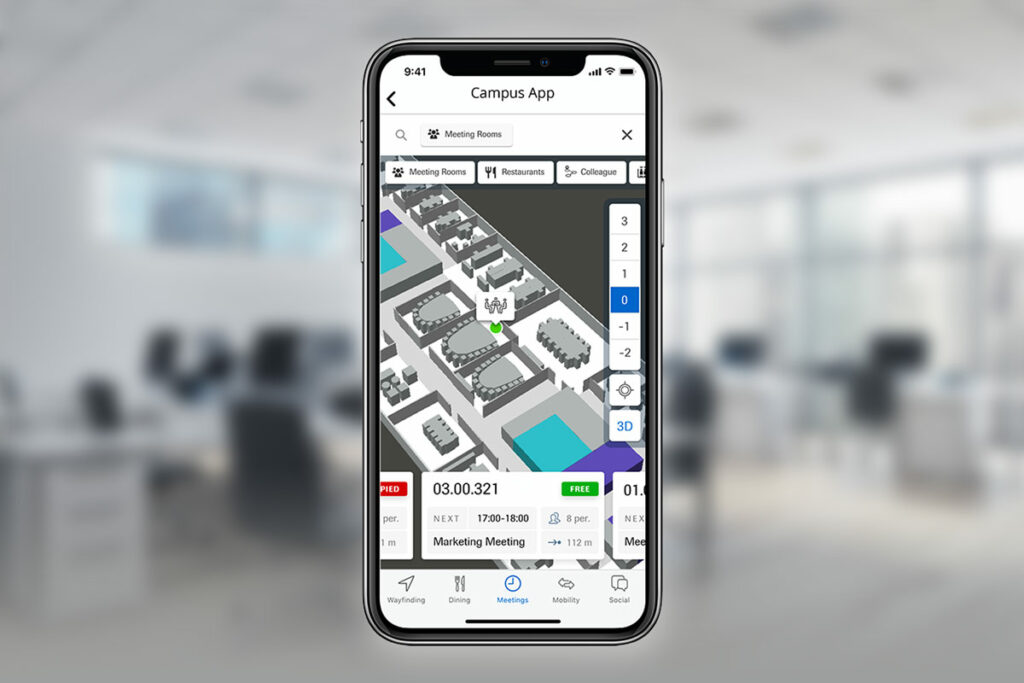 Progressive Web App and Touch Terminal
A progressive web app is accessible via a web browser. It contains all the functionalities of the native app except for automatic positioning. There is no need to download an application on the user's device.
Stationary touchscreen terminals can be installed at relevant points in the building and provide visitors with an overview of the location. The terminal has a search function, shows points of interest and simulates a navigation to the selected destination.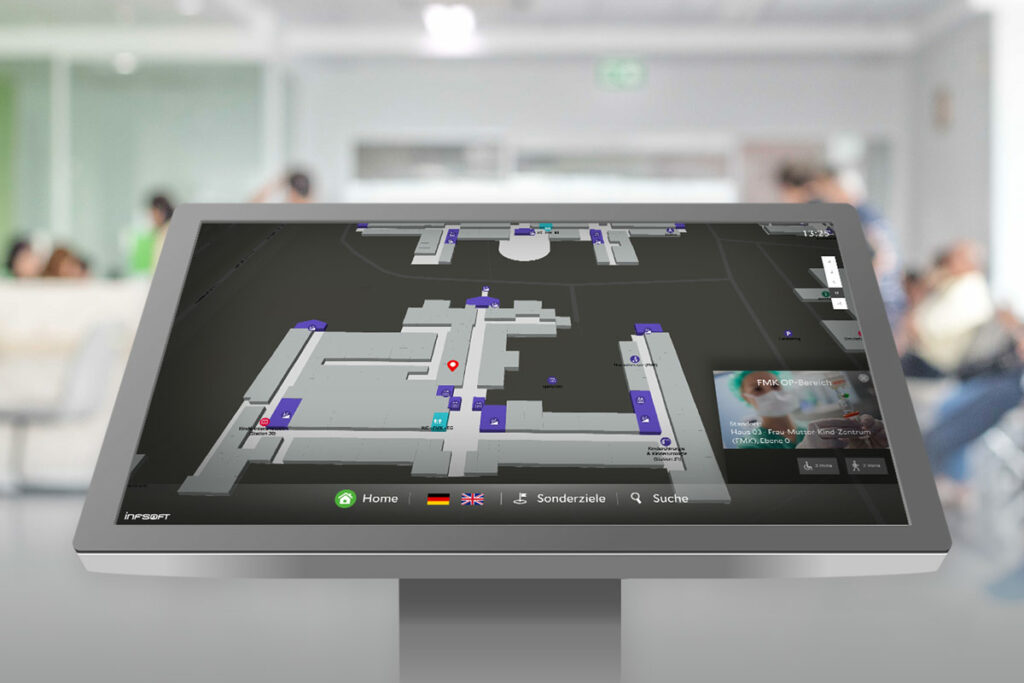 For more information on "infsoft Wayfinding" including a cost example, please visit www.infsoft.com/wayfinding.
DOWNLOAD