Digital Signage with infsoft E-Ink Display Beacons
Electrophoretic ink, often called electronic ink (E-Ink), is a technology that imitates the look of ink on paper. E-Ink displays are easily readable from any viewing angle, offer design freedom, robustness, and low power consumption. Devices using E-Ink are referred to as bistable, meaning that the display is consuming power only when content is updated, which is the key reason for the products' long battery lifes of up to 5 years.
Thanks to Bluetooth Low Energy (BLE) technology, content can be transferred flexibly and automatically to infsoft E-Ink Display Beacons, and the display's location can be visualized on a digital map via infsoft software tools.
E-Ink Display Beacons as Infrastructure Hardware
infsoft E-Ink Display Beacons are available in many different sizes. Larger displays can get permanently integrated into the infrastructure and are used for digital signage applications such as the dynamic labeling of rooms, lockers, etc.
Get to know our related product:
infsoft Room Signage infsoft offers innovative electronic room signage systems based on battery-powered…
Smaller E-Ink Display Beacons can be used as tag hardware for electronic labeling of containers, shelves, beds, and more :
Businesses are offered the ability to wirelessly update content on the displays quickly and efficiently, without needing to print paper notices and deploy personnel to adjust them manually. In real time, fixed E-Ink beacons can display room or building information, reservation details, points of interest (POI), workspace occupancy, and much more. The displays can be rewritten automatically with individual information such as current room occupancy details or booking status.
Use Cases for E-Ink Display Beacons as Infrastructure Hardware
Stationary E-Ink displays can be used beneficially in a variety of different applications. Here are some examples:
Functionality of infsoft E-Ink Display Beacons
Combining E-Ink displays and Bluetooth Low Energy (BLE) technology enables transferring content flexibly to the display and also visualizing the device's location. In order to display content and manage the infsoft E-Ink Display Beacon, the corresponding display can be selected and edited in infsoft E-Inks. Automated updating of the labeling can be realized manually and via an interface with infsoft Automation. Via other various interfaces, such as room booking systems or employees' calendars, the labeling of the E-Ink displays can be automatically adjusted with the relevant information.
For positioning, the infsoft E-Ink Display Beacon sends BLE signals to infsoft Locator Nodes that are installed in the area. The Locator Nodes process the provided data and send it to the infsoft LocAware platform®, where it is intelligently processed.
Technical Features of infsoft E-Ink Display Beacons (Infrastructure Hardware)
Dimensions: 36 x 46 x 14.2 mm
Screen size: 1.54″ / 28 x 28 mm
Display resolution: 152 x 152 px, 142 DPI
Color: red, black, paperwhite / yellow, black, paperwhite
LED indicator (RGB)
Protection class IP65
Certification: CE, FCC
Battery: CR2450
Unit price: €13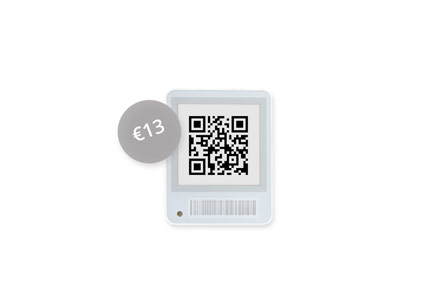 Dimensions: 68 x 35 x 14.2 mm
Screen size: 2.13″ / 48.30 x 24.40 mm
Display resolution: 250 x 122 px, 130 DPI
Color: red, black, paperwhite / yellow, black, paperwhite
LED indicator (RGB)
Protection class IP65
Certification: CE, FCC
Battery: 2x CR2450
Unit price: €17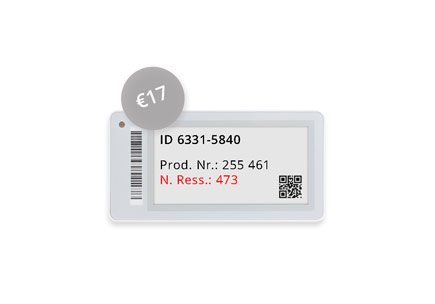 Dimensions: 91 x 41 x 14.2 mm
Screen size: 2.9″ / 66.90 x 29.10 mm
Display resolution: 296 x 136 px, 112 DPI
Color: red, black, paperwhite / yellow, black, paperwhite
LED indicator (RGB)
Protection class IP65
Certification: CE, FCC
Battery: 2x CR2450
Installation: magnetic mount incl. 2 boreholes, sold separately
Unit price: €20, mount €8.20
Dimensions: 103 x 43 x 13 mm
Screen size: 2.9″ / 66.90 x 29.10 mm
Display resolution: 296 x 128 px, 112 DPI
Color: red, black, paperwhite / yellow, black, paperwhite
Button
LED indicator (RGB)
Protection class IP65
Certification: CE, FCC
Battery: 2x CR2450
Installation: magnetic mount incl. 2 boreholes, sold separately
Unit price: €25, mount €8.20
Dimensions: 99 x 93.5 x 13.5 mm
Screen size: 4.2″ / 84.80 x 63.60 mm
Display resolution: 400 x 300 px, 120 DPI
Color: red, black, paperwhite / yellow, black, paperwhite
LED indicator (RGB)
Protection class IP65
Certification: CE, FCC
Battery: 4x CR2450
Installation: magnetic mount incl. 2 boreholes, sold separately
Unit price: €40, mount €11.20
Dimensions: 133.5 x 118 x 13 mm
Screen size: 5.83″ / 118.78 x 88.22 mm
Display resolution: 648 x 480 px, 138 DPI
Color: red, black, paperwhite / yellow, black, paperwhite
LED indicator (RGB)
Protection class IP65
Certification: CE, FCC
Battery: 4x CR2477
Installation: magnetic mount incl. 2 boreholes, sold separately
Unit price: €60, mount €16
Dimensions: 178.9 x 124.9 x 13 mm
Screen size: 7.5″ / 163.24 x 97.94 mm
Display resolution: 800 x 480 px, 137 DPI
Color: red, black, paperwhite / yellow, black, paperwhite
LED indicator (RGB)
Protection class IP65
Certification: CE, FCC
Battery: 6x CR2477
Installation: magnetic mount incl. 3 boreholes, sold separately
Unit price: €75, mount €25
Dimensions: 271.8mm x 196.2mm x 14.2mm
Screen size: 11.6″ / 244.5 x 163mm
Display resolution: 960 x 640 px, 100 DPI
Color: red, black, paperwhite / yellow, black, paperwhite
LED indicator (RGB)
Protection class IP65
Certification: CE, FCC
Battery: 6x CR2477
Installation: magnetic mount incl. boreholes, sold separately
Unit price: €145, mount €48