Cisco Access Points
Besides infsoft Locator Nodes, existing Cisco access points (Cisco Catalyst 9100 or higher) can also be used as gateways. In this case, the Locator Node firmware is provided as a Docker image on the access point, providing the full functionality of the Locator Node. All that is required is to add a Locator-Dongle for BLE5 connectivity to the access point. Connection to the infsoft LocAware platform® is established via the network, as with the standalone Locator Node hardware.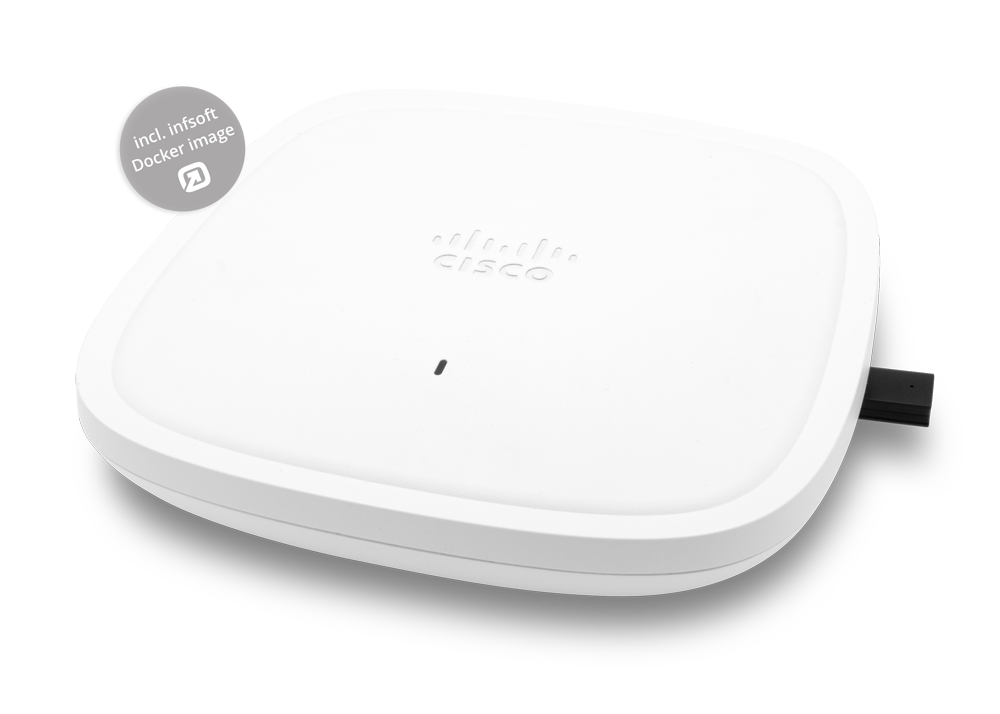 Utilizing the existing Cisco access point infrastructure results in significant cost savings associated with the cabling effort (power supply or Ethernet) that would otherwise be required for infsoft Locator Nodes.
Full Functionality of the Locator Node Firmware
Through the Docker image and the extension via Locator-Dongle for the Bluetooth 5 connection, the access point can use all of the Locator Nodes' functions. This allows for the connection of other infrastructure hardware like infsoft Locator Beacons, E-Ink Display Beacons, and sensor tags as well as the tracking of mobile BLE tags with extended sensor technology.
Technical Features of the Locator-Dongle
Dimensions: approx. 27.55 x 11 mm (LxW)
Sensors: Bluetooth Low Energy 5, 2.4 GHz
Certification: CE, FCC
Color: black or white
Price: unit price €90