infsoft E-Ink Display Beacons
Electrophoretic ink, often called electronic ink (E-Ink), is a technology that mimics the appearance of ink on paper. When printed onto a sheet of plastic film that is laminated to a layer of circuitry, it creates an Electronic Paper Display (EPD). EPD technology delivers look and utility of paper encompassing good readability, very wide viewing angles, design freedom, robustness, and low power consumption. E-Ink products offer paper-like readability under all lighting conditions. Moreover, they are referred to as bistable, which means that the display is consuming power only when refreshing, giving the product extraordinary battery life of up to 5 years.
In combination with Bluetooth Low Energy Technology, the content on the display can easily and conveniently be updated. Moreover, the E-Ink Display Beacon's location can be tracked.
E-Ink Display Beacons as Tag Hardware
E-Ink Display Beacons are available in many different sizes. Smaller displays can be attached to assets and are thus especially suitable for tracking solutions, such as infsoft Lead Time Tracking. Beacons with E-Ink displays that are used as tag hardware are a perfect fit for electronic container or product labels.
Larger E-Ink Display Beacons can be used as infrastructure hardware for electronic labeling of meeting rooms, lockers and more.
Businesses are offered the ability to wirelessly update content on the displays quickly and efficiently, without needing to print paper tags and deploy personnel to change them manually. In real time, E-Ink beacons can display product information, status, inventory levels, barcodes, and much more. In production and logistics, for example, when assets are traced along the process chain, the display can be rewritten automatically with the current status and individual information such as instructions on the next work step.
Use Cases for E-Ink Display Beacons as Tag Hardware
Attaching infsoft E-Ink Display Beacons to assets allows for a wide range of application scenarios. Here are some examples:
Functionality of infsoft E-Ink Display Beacons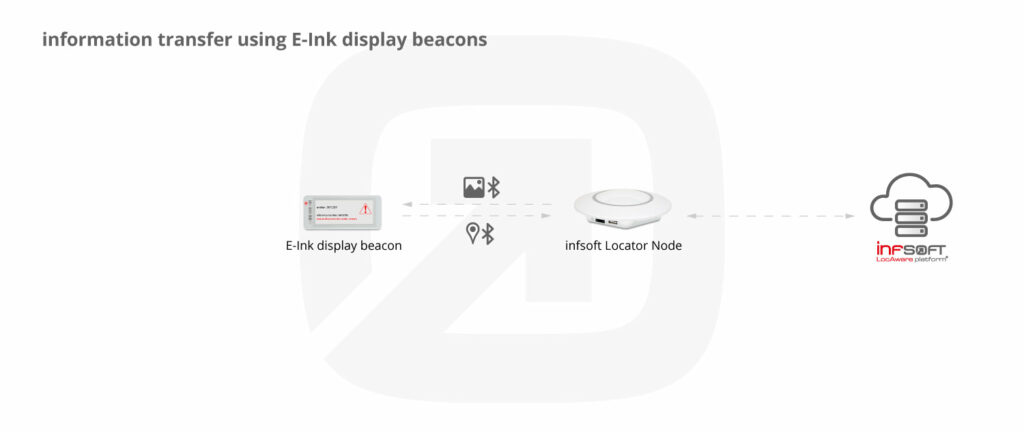 Combining E-Ink displays and Bluetooth Low Energy (BLE) technology enables transferring content flexibly to the display and also visualizing the device's location. In addition, it is possible to track the paths and stations of the labeled objects and use this information to gain significant business insights. In order to display content on the infsoft E-Ink Display Beacon, the desired device and content are selected in the infsoft CMS tool or a corresponding app ("infsoft E-Ink Writer"). Via Bluetooth, the content is transferred to the display. The content can not only be updated manually, but also automatically – using infsoft Automation to define corresponding conditions.
For positioning, the infsoft E-Ink Display Beacon sends BLE signals to infsoft Locator Nodes that are installed in the area. The Locator Nodes process the provided data and send it to the infsoft LocAware platform®, where it is intelligently processed.
Technical Features of the infsoft E-Ink Display Beacons (Tag Hardware)
Dimensions: 36 x 46 x 14.2 mm
Screen size: 1.54″ / 28 x 28 mm
Display resolution: 152 x 152 px, 142 DPI
Color: red, black, paperwhite / yellow, black, paperwhite
LED indicator (RGB)
Protection class IP65
Certification: CE, FCC
Battery: CR2450
Unit price: €13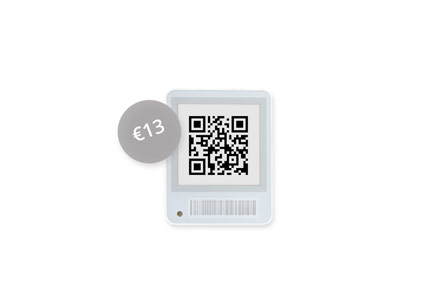 Dimensions: 68 x 35 x 14.2 mm
Screen size: 2.13″ / 48.30 x 24.40 mm
Display resolution: 250 x 122 px, 130 DPI
Color: red, black, paperwhite / yellow, black, paperwhite
LED indicator (RGB)
Protection class IP65
Certification: CE, FCC
Battery: 2x CR2450
Unit price: €17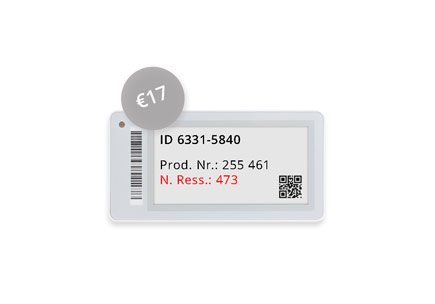 Dimensions: 91 x 41 x 14.2 mm
Screen size: 2.9″ / 66.90 x 29.10 mm
Display resolution: 296 x 136 px, 112 DPI
Color: red, black, paperwhite / yellow, black, paperwhite
LED indicator (RGB)
Protection class IP65
Certification: CE, FCC
Battery: 2x CR2450
Installation: magnetic mount incl. 2 boreholes, sold separately
Unit price: €20, mount €8.20
Dimensions: 103 x 43 x 13 mm
Screen size: 2.9″ / 66.90 x 29.10 mm
Display resolution: 296 x 128 px, 112 DPI
Color: red, black, paperwhite / yellow, black, paperwhite
Button
LED indicator (RGB)
Protection class IP65
Certification: CE, FCC
Battery: 2x CR2450
Installation: magnetic mount incl. 2 boreholes, sold separately
Unit price: €25, mount €8.20
Dimensions: 99 x 93.5 x 13.5 mm
Screen size: 4.2″ / 84.80 x 63.60 mm
Display resolution: 400 x 300 px, 120 DPI
Color: red, black, paperwhite / yellow, black, paperwhite
LED indicator (RGB)
Protection class IP65
Certification: CE, FCC
Battery: 4x CR2450
Installation: magnetic mount incl. 2 boreholes, sold separately
Unit price: €40, mount €11.20
Dimensions: 133.5 x 118 x 13 mm
Screen size: 5.83″ / 118.78 x 88.22 mm
Display resolution: 648 x 480 px, 138 DPI
Color: red, black, paperwhite / yellow, black, paperwhite
LED indicator (RGB)
Protection class IP65
Certification: CE, FCC
Battery: 4x CR2477
Unit price: €60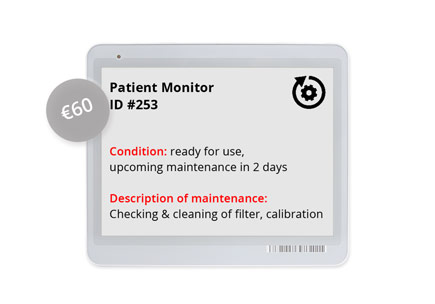 Dimensions: 178.9 x 124.9 x 13 mm
Screen size: 7.5″ / 163.24 x 97.94 mm
Display resolution: 800 x 480 px, 137 DPI
Color: red, black, paperwhite / yellow, black, paperwhite
LED indicator (RGB)
Protection class IP65
Certification: CE, FCC
Battery: 6x CR2477
Installation: magnetic mount incl. 3 boreholes, sold separately
Unit price: €75, mount €20
Dimensions: 271.8mm x 196.2mm x 14.2mm
Screen size: 11.6″ / 244.5 x 163mm
Display resolution: 960 x 640 px, 100 DPI
Color: red, black, paperwhite / yellow, black, paperwhite
LED indicator (RGB)
Protection class IP65
Certification: CE, FCC
Battery: 6x CR2477
Installation: magnetic mount incl. boreholes, sold separately
Unit price: €145, mount €45