Using Beacons for Indoor Positioning, Tracking and Indoor Navigation
Beacons are small radio transmitters that send out Bluetooth signals. They are available in different sizes, colors and shapes, making them suitable for a wide range of applications and allowing them to be integrated unobtrusively and easily into any environment.
The advantages of beacons speak for themselves: They are cost-effective (three to thirty euros), can be installed with minimal effort, and determine a position with an accuracy of a few meters. The BLE (Bluetooth Low Energy) standard is also very energy efficient. Beacons can be used for both client-based (indoor navigation) as well as server-based (asset tracking) applications.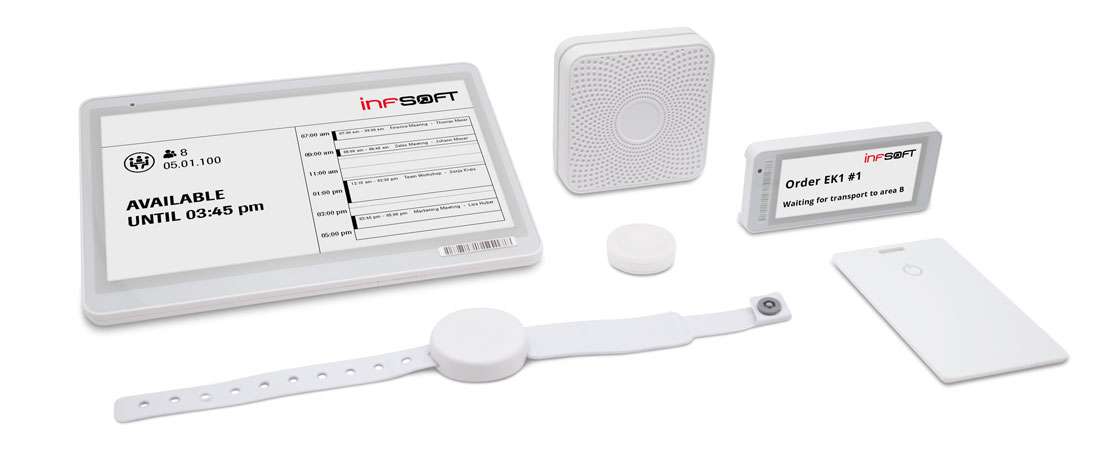 Indoor navigation with beacons (the most common types are the iBeacon and Eddystone) offer decisive advantages for projects that are dependent on high accuracy and want to include Apple devices. Beacons enable indoor navigation when used in a client-based procedure, for example for airline passengers using an app – cross-platform and with an accuracy of up to 1 meter.
If the positioning data should be directly displayed on a mobile device (smartphone), the smartphone receives Bluetooth signals from beacons installed in the building and uses the signal strength measurement for localization. The device can also transfer the data to the infsoft LocAware platform®, where it is intelligently processed. The accuracy of a client-based procedure is 1-3 meters, the range up to 30 meters. When determining the position, the current floor is detected as well.
Beacons have specific indicators that can be used for allocation, differentiation and parameterization. For iBeacons, these include UUID (association to a superordinate group, e.g. "Frankfurt Airport"), Major (association to a specific group, e.g. "Terminal 1"), Minor (identification of several beacons, e.g. "Beacon #10"), TX Power (signal strength) and transmission interval.
Eddystone beacons have several "frame types" that differentiate them from the iBeacon: Eddystone UUID: (16-digit ID that indicates the group association and identity of an individual beacon), Eddystone URL (freely selectable URL) and Eddystone TLM (current status of the beacon).
In a client-based approach, a grid-based use of beacons is recommended. The number of required beacons depends on the size of the room and potential obstacles for signal propagation. It should be ensured that each point within the area to be monitored is ideally covered by three beacon signals. Otherwise it is not possible to determine the exact position. To determine the necessary number of beacons, the rooms should be measured and a floor plan with all objects should be created. As a general rule, we recommend setting the beacon's transmission power rather slightly lower while increasing the installation density. This results in a more closely meshed network with a higher positioning accuracy.
Bluetooth beacons normally do not affect other radio networks (interference) and they also do not interfere with medical devices. However, if you install beacons in a space with lots of Wi-Fi signals (for example, at a trade show), then interference can occur because BLE and Wi-Fi share the same frequency range (2.4 GHz). The problem can be easily avoided here by not using channels 2, 3, 4, 13 and 14 when configuring the Wi-Fi and using 1, 6, 7, 8, 9, 10, 11 and 12 instead. Bluetooth uses the remaining available channels to capacity in a uniform manner (frequency hopping). Advertising channels that are used for positioning are marked in red in the graphic. The blue-colored channels are reserved for additional functions such as a temperature sensor.
The Bluetooth Low Energy (BLE) technology enables battery operation over two to eight years without having to access an external power supply. Beacons can also be connected to the power supply or use lamps as a power source.
There are attenuations in the Bluetooth signal dispersion within buildings that are taken into account during installation and parameterization.

Low attenuation properties: Wood, synthetic materials, glass
Medium attenuation properties: Brick, marble
High attenuation properties: Plaster, concrete, coated glass surfaces (bulletproof versions, etc.)
Extremely high attenuation properties: Metal, water (this includes people and groups of people)
Beacon Calculator
Try the infsoft beacon calculator to get a rough idea of the number of beacons required for your client-based indoor positioning project. Please be aware that the amount of beacons depends on various factors, such as industry, desired accuracy, parameterization and local structural conditions.
We are happy to advise you!
Area
Floors
Industry
Result: