infsoft AI Occupancy Sensor
The infsoft AI Occupancy Sensor is a hardware component used for analyzing areas, provided with an integrated optical sensor.
The infsoft AI Occupancy Sensor uses artificial intelligence to analyze and evaluate images captured by the sensor, enabling intelligent recognition of individuals and objects while ensuring privacy compliance.
This hardware component can be applied in numerous applications requiring occupancy analysis.
Functionality of the infsoft AI Occupancy Sensor
The infsoft AI Occupancy Sensor utilizes advanced technology to accurately detect and count both individuals and objects within its illuminated area, which spans approximately 50 square meters when mounted on the ceiling at a height of 2.40 meters. The image recording at specified time intervals is controlled by the server and can be triggered ad hoc by the built-in PIR sensor when motion is detected.
Passive occupancy indicators, such as laptops, keyboards, and coffee cups, can be used to detect the presence of people in workstations and rooms. Even in the absence of individuals, these indicators, along with changes in their arrangement, can be used to identify occupied resources.
The data set is transmitted to an infsoft Locator Node gateway using Bluetooth Low Energy, and then securely relayed to the infsoft LocAware platform®. Within the platforms, the image is analyzed in volatile memory using an AI model and the results are stored. The image is discarded and is not viewable at any time.
The infsoft AI Occupancy sensors provide an additional benefit due to their simple and flexible installation process. The sensor, which operates on battery power and can record approximately 30,000 times before needing to be refilled, can be easily attached to room ceilings using the magnetic mount provided. This makes it suitable for analyzing occupancy and utilization patterns in offices, conference rooms, and other work environments. Additional applications include inventory management in industrial environments.
Analysis of Data and Data Protection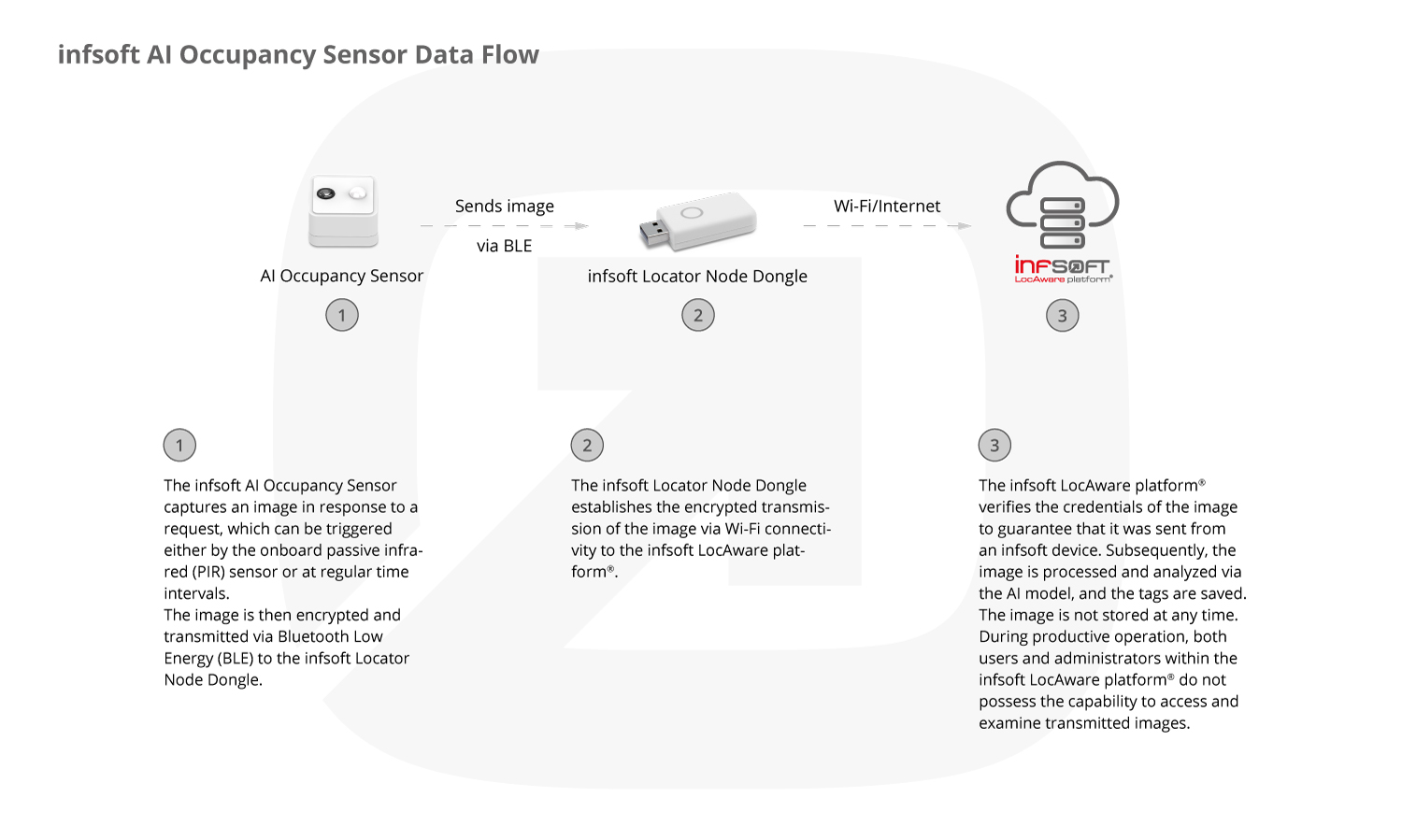 Image analysis of the infsoft AI Occupancy Sensor is performed using advanced AI algorithms and machine learning to ensure accurate detection. The hardware, in conjunction with the infsoft LocAware platform®, ensures secure data transmission and only stores results such as people numbers and object types. Images are not stored on the platform but only held in temporary storage, for analysis by the artificial intelligence, and then discarded. There is no possibility for administrators or other users to view the recordings. This procedure ensures the protection of privacy and compliance with applicable data protection regulations.
The captured images are not stored and cannot be viewed.
Technical Features of the infsoft AI Occupancy Sensor
Dimensions: approx. 72 x 72 x 44 mm (LxWxH)
Weight: 176 g (incl. 4 replaceable AA batteries)
Sensors: Bluetooth Low Energy (BLE) 5, 2,4 GHz, PIR Sensor
Power supply: battery-powered, up to 30.000 images
Enclosure: ABS material, white
Certification: CE, FCC
Installation: mounted on ceiling (magnetic mount including 2 boreholes, sold seperately)
Price: unit price €195, mount €8.20
Further Information