Indoor Positioning Using BLE Tags
Bluetooth Low Energy (BLE) tags, also known as beacons, are small Bluetooth hardware components that are used to locate people, objects or vehicles. In server-based applications, the beacons are attached to assets to be tracked or are carried by people. Using a transmitter-receiver model, the position of the beacons can be determined on a server.
Bluetooth is the protocol of choice for implementing indoor positioning and proximity solutions. Bluetooth Low Energy is a proven, particularly energy-efficient standard that paved the way for numerous RTLS and IoT solutions. The technology offers a lot of application possibilities from tracking assets in industrial environments to locating patients in hospitals.
In some cases Angle of Arrival (AoA) technology (direction finding) can be added to the application in order to improve the localization accuracy. This enables tracking solutions with centimeter-accurate positioning. However, it should be noted that centimeter-accuracy can only be achieved with an existing line-of-sight between beacon and receiver hardware. Thus, the application makes particular sense for tracking systems in open areas (e.g. industrial halls).
Functionality of BLE Tags
Depending on the requirements of the positioning project and the prerequisites on site, the indoor positioning system can be set up in different ways. Below, we give an overview of three possible setups of a positioning system using BLE tags.
Real-Time Positioning
Real-time tracking can be achieved by installing infsoft Locator Nodes across the premises. This solution enables reliable tracking but requires a comparably high installation effort as the Locator Nodes need a connection to the network as well as a continuous power supply. The BLE tags attached to the assets being tracked sends Bluetooth signals to nearby infsoft Locator Nodes which are installed at regular intervals throughout the site. The Locator Node processes the provided data and sends it via Wi-Fi or Ethernet to the infsoft LocAware platform®. Here, the position can be displayed on a map and movement statistics can be retrieved. The accuracy for a server-based procedure ranges from less than 8 meters to less than 1 meter.
Real-time localization can also be realized using infsoft Locator Beacons Smart Plug. The advantage of this setup is that all that is needed to install the smart plugs is a power outlet. The smart plugs are then constantly powered and can continuously scan the environment for signals. In such a setup, BLE tags send signals to the Locator Beacons smart plugs. These forward the data to a few centrally installed infsoft Locator Nodes. From there, the data is sent to the infsoft LocAware Platform® and the position is determined.
Time-Delayed Positioning
Alternatively, time-delayed positioning can be implemented. In many cases, a slightly time-delayed and room accurate positioning is sufficient. In this scenario, BLE tags broadcast signals which are received by infsoft Locator Beacons. The Locator Beacons forward the information to a centrally installed infsoft Locator Node. From there, the data is sent to the infsoft LocAware platform® where the position is determined. The advantage of the solution is the lower installation effort as infsoft Locator Beacons are battery-powered and don't need a network connection.
Real-Time Positioning with Smart Wearables
Another option is to implement real-time tracking with smart wearables. Stationary installed infsoft Locator Beacons or beacons emit signals which are received by beacon wristbands that are carried by people. The data is then forwarded to a infsoft Locator Node and the infsoft LocAware platform®. The benefit of this solution is that only a small amount of infsoft Locator Nodes are required and the beacon wristbands can easily be recharged at the end of the day.
Types of BLE Tags
BLE tags come in different shapes and sizes. This makes them suitable for a wide range of different applications scenarios in a variety of industries. It can roughly be distinguished between asset tags that are implemented in order to track objects and wearables that are used for locating people. In both cases, the beacons can additionally be equipped with sensor functions such as a motion or temperature sensor.
Beacons / Asset Tags
Asset tags can be attached to objects and vehicles to locate them in a server-based application. They can also be used in client-based solutions for indoor navigation. Beacons and asset tags are sold by a multitude of suppliers and are available in various shapes and sizes. In addition to their appearance, they can also differ in their functionality and IP protection class. Below you'll find a selection of different BLE tags: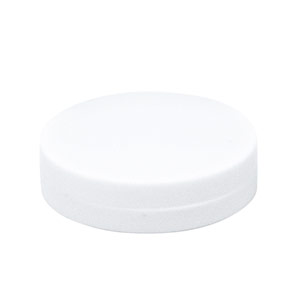 Dimensions: Φ26 mm x 5 mm
Weight: 4.0 g
Sensors: Bluetooth Low Energy (BLE) 5, 2.4 GHz
Battery: CR series button battery, 90 mAh
Certification: CE, FCC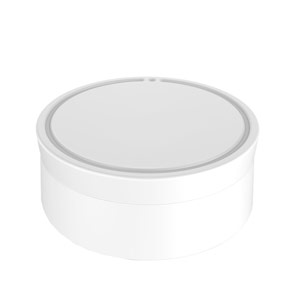 Dimensions: Φ39 mm x 15.5 mm
Weight: 20.2 g
Sensors: Bluetooth Low Energy (BLE) 5, 2.4 GHz
Battery: CR series battery, 1000 mAh
IP Rating: IP67
Certification: CE, FCC
Features: accelerometer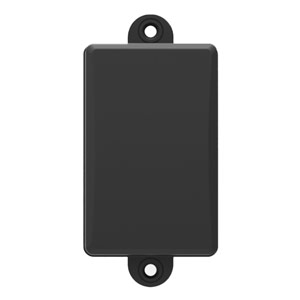 Dimensions: 73.8 mm x 47 mm x 24.5 mm
Weight: 80 g
Sensors: Bluetooth Low Energy (BLE) 5, 2.4 GHz
Battery: AA battery / Lithium battery (optional)
IP Rating: IP66
Certification: CE, FCC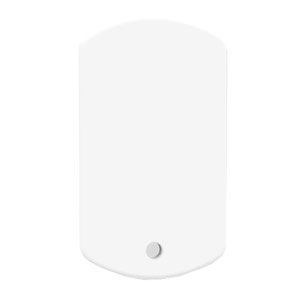 Dimensions: 42.1 mm x 23.8 mm x 3.5 mm
Weight: 4.5 g
Sensors: Bluetooth Low Energy (BLE) 5, 2.4 GHz
Battery: CR series button battery, 90 mAh
Certification: CE, FCC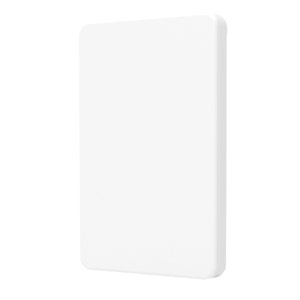 Dimensions: 36.5 mm x 23.5 mm x 3.5 mm
Weight: 4.5 g
Sensors: Bluetooth Low Energy (BLE) 5, 2.4 GHz
Battery: CR series button battery, 90 mAh
Certification: CE, FCC
Wearables
Wearable beacons, for example in the form of wristbands, are ideal for tracking people. Wristbands that can also be equipped with various functions are very popular. These functions include, for example, an emergency button for patients or a cut-off alert that automatically triggers an alarm if the wristband is cut or torn off. Below you'll find a selection of different BLE wearables: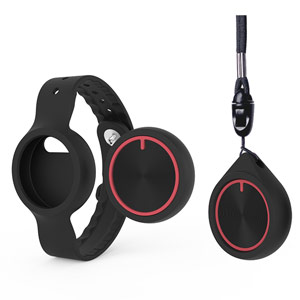 Dimensions: Φ38 mm x 10.5 mm (beacon), 270 mm x 41 mm x 11.7 mm (wristband case), 47 mm x 40 mm x 11.7 mm (hanging case)
Weight: 11 g (beacon), 30 g (wristband case), 22 g (hanging case)
Sensors: Bluetooth Low Energy (BLE) 5, 2.4 GHz; Accelerometer
Battery: rechargeable lithium polymer battery (100 mAh), magnetic charging
IP Rating: IP66
Certification: CE, FCC
Features: emergency button, vibration response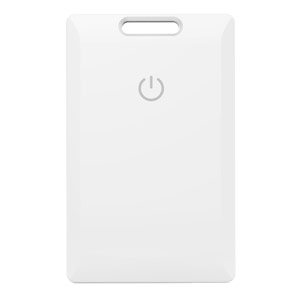 Dimensions: 85.5 mm x 54 mm x 4.5 mm
Weight: 18.5 g / 15.5 g
Sensors: Bluetooth Low Energy (BLE) 5, 2.4 GHz
Battery: CP series battery, 800 / 500 mAh
IP Rating: IP65
Certification: CE, FCC
Features: emergency button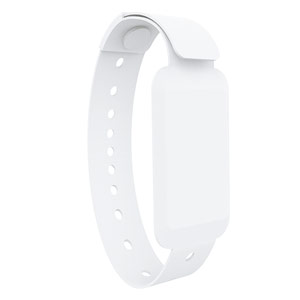 Dimensions: 250 mm x 36 mm x 4.2 mm
Weight: 7.8 g
Sensors: Bluetooth Low Energy (BLE) 5, 2.4 GHz
Battery: CR series battery, 90 mAh
IP Rating: IP67
Certification: CE, FCC
Features: cut-off alert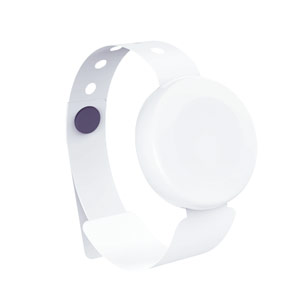 Dimensions: 250 mm x 28 mm x 11 mm
Weight: 12 g
Sensors: Bluetooth Low Energy (BLE) 5, 2.4 GHz
Battery: CR series coin battery, 220 mAh
IP Rating: IP67
Certification: CE, FCC
Features: emergency button
Suppliers of BLE Tags (Bluetooth Beacons)
infsoft does not produce beacons itself, but will be happy to put you in touch with appropriate manufacturers. There are also some network suppliers who integrate Bluetooth into their solutions, such as Cisco. Here is a selection of some beacon hardware providers: