Indoor Positioning & Indoor Tracking in Industrial Applications
infsoft offers tracking solutions for complex industrial sites. A Real-Time Locating System (RTLS) provides operators with location-relevant data and helps make the logistics process faster and smoother. Not only can a locating system help increase productivity, but it also enables automated real-time decision-making and identification of hidden costs.
Indoor positioning in industry and logistics makes the locations of goods and employees visible and allows for analysis, coordination, and optimization of manufacturing and logistics processes. Key benefits of these solutions include reduced search times, process optimization, increased efficiency, and greater safety for employees.
Asset Tracking & Lead Times
Indoor tracking of objects is in great demand in industrial and logistics applications, especially in terms of time and cost savings as well as process optimization. The current locations of goods, tools, and vehicles can be viewed along with the exact throughput times. The solution ensures process transparency, capacity utilization optimization, and adherence to delivery deadlines.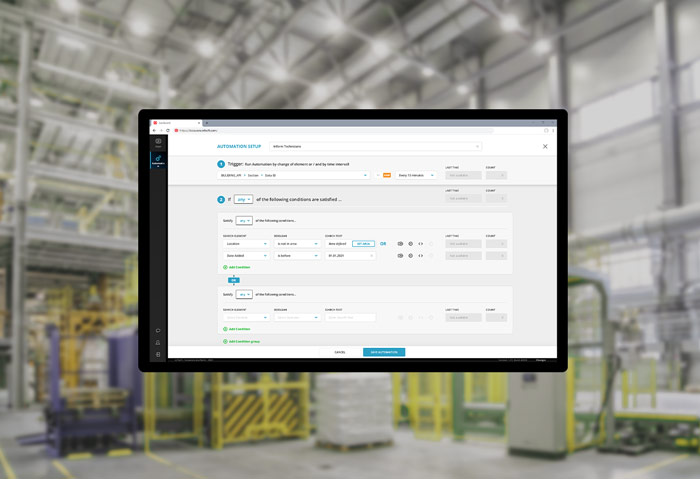 Process Automation
Various trigger logics can be defined along the process chain and hold potential for far-reaching optimization and automation of operational processes. A designated action can be triggered automatically when a tag hardware component enters, leaves, or remains in a virtual zone. Triggers without geo-reference (e.g., user- or hardware-specific) can also be defined. Common applications include notification and task configuration, alert messaging, and automatic status change or deregistration of orders.
People Tracking
Indoor positioning can play a crucial role in increasing the safety of employees in industry and logistics. Bluetooth wearables enable tracking of location and movement patterns. Individuals wearing the wristband can request immediate help via an emergency button. Task assignments based on location help companies establish efficient workflows.
White Paper
Read more about advantages of indoor positioning for industrial environments, positioning technologies and use cases in our comprehensive white paper.