Real-Time Locating Systems in Healthcare
There are a number of possible applications for indoor positioning in healthcare. Smart technologies help to optimize processes in hospitals: mobile devices can be found faster, hygiene regulations can be controlled, walking routes can be analyzed and appointments can be coordinated more efficiently. The main benefits are reduced search times, theft protection, increased safety for patients, relieving staff, and overall significant cost savings.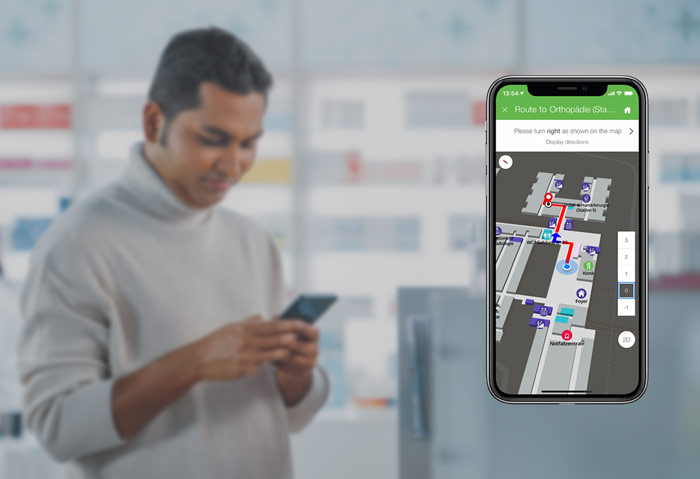 Clinic App & Wayfinding
The use of a mobile app supports patients and visitors at a hospital during their stay. The app's functions range from a patient portal with the option to make and manage appointments to a digital waiting room when at the hospital. In addition, the user benefits from indoor navigation to relevant destinations on the premises. The wayfinding solution can be integrated into the mobile app or provided at stationary terminals.
Localization of Medical Equipment
In healthcare, indoor tracking of objects is particularly useful in terms of time savings, process optimization and theft protection. The current location of mobile medical equipment and beds can be viewed on a digital map at any time. In addition, other relevant information and the status of the assets can be documented.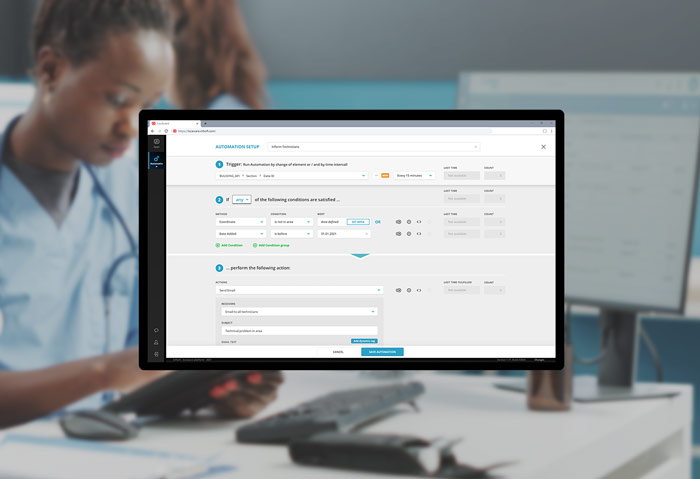 Maintenance & Service Processes
By setting up individual action logics, processes can be automated and workflows optimized. The triggers can be diverse, for example, geo- or time-based, related to the battery status of a device and much more. Possible applications include sending push notifications, configuring tasks or changing a device's status.
Patient Localization & Emergency Call
Indoor tracking of people can be useful in many situations. On the one hand, safety aspects play a role, for example in the monitoring of particularly vulnerable patients and in the evacuation of employees and patients in emergencies. On the other hand, the recorded walking paths provide the basis for process optimization.
White Paper
Read more about advantages of indoor positioning for the healthcare sector, positioning technologies and use cases in our comprehensive white paper.