In the context of digitization, digital labeling and signage using E-Ink displays is one of the smart solutions increasingly gaining importance worldwide and across industries. By using smart e-labeling solutions from Ingolstadt-based software developer infsoft, large enterprises can realize many benefits such as improved transparency and visibility.
E-Ink Displays Beacons are available in different sizes. The main advantages of these displays are design freedom, large viewing angles and energy efficiency. Information can be displayed in multiple colors and the displays come with an LED indicator. The integrated Bluetooth Low Energy technology allows wireless and automated data transfer and localization of the hardware.
Depending on the use case, E-Ink display beacons are either permanently installed in one location as infrastructure hardware or attached to mobile assets as tag hardware.
Real-time Location Tracking via Bluetooth Low Energy
Electronic Labeling of Rooms, Floors and Lockers
E-Ink displays, which are permanently integrated into the environment as infrastructure hardware, are used, for example, to label a meeting room, as a floor plan for displaying real-time availabilities of individual rooms on the floor or to label lockers.
By interfacing with systems from infsoft (e.g., meeting room utilization analysis) or third-party systems (e.g., employee calendars, room booking system), the E-Ink displays are automatically updated and it is ensured that the displayed information is always up to date. On a display in front of a meeting room, details on current meetings, the next available time slots and more can be shown, and even last-minute changes are immediately visible.
Linking several systems via interfaces increases the range of functions even further. For example, by scanning a QR code, a room can be booked or a problem reported.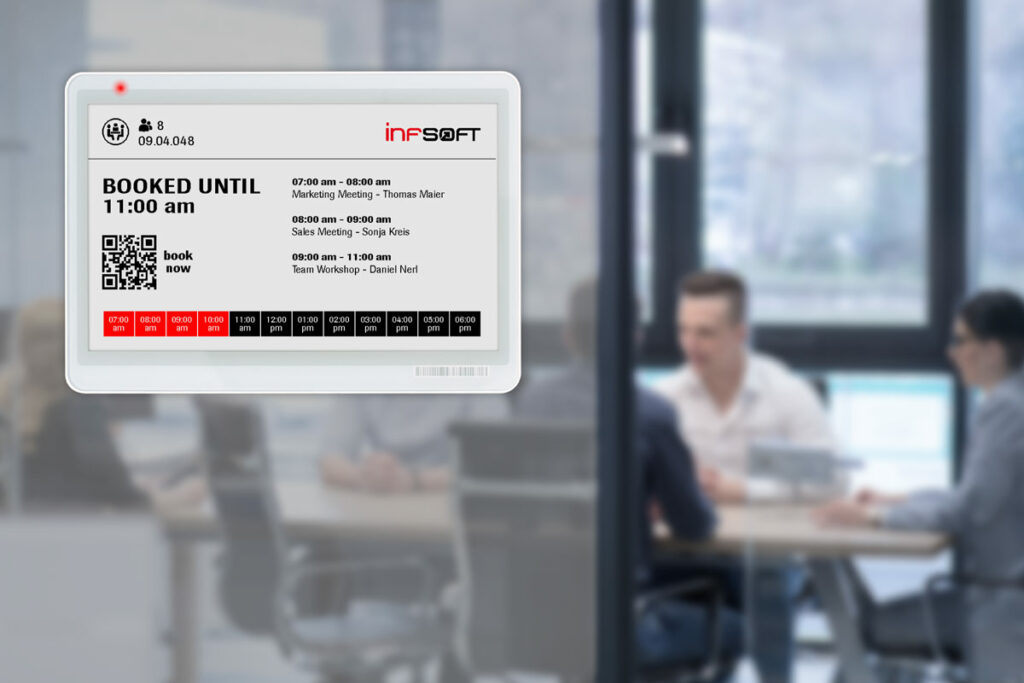 Labeling and Localization of Mobile Assets
Smaller E-Ink displays can be used for tagging all types of mobile devices. In a hospital, the displays are particularly suitable for labeling mobile medical equipment or beds. On the latter, for example, relevant information about the respective bed (cleaning status, next maintenance date) or the assigned patient (admission date, medication schedule) is made visible. By pressing a button on the display, the status can be changed automatically, for instance, from "not cleaned" to "cleaned."
Smart e-labeling solutions are also increasingly used in industrial environments. E-Ink Display Beacons are replacing paper routing slips along the process chain, for example. The great advantage is that relevant data about the order, shown on the display, is automatically updated. The triggers for the automatic updates can be defined individually and include, for example, changing the workstation or pressing a button. The automatic change of the display eliminates manual work, saves time and resources and supports the on-time completion of the job.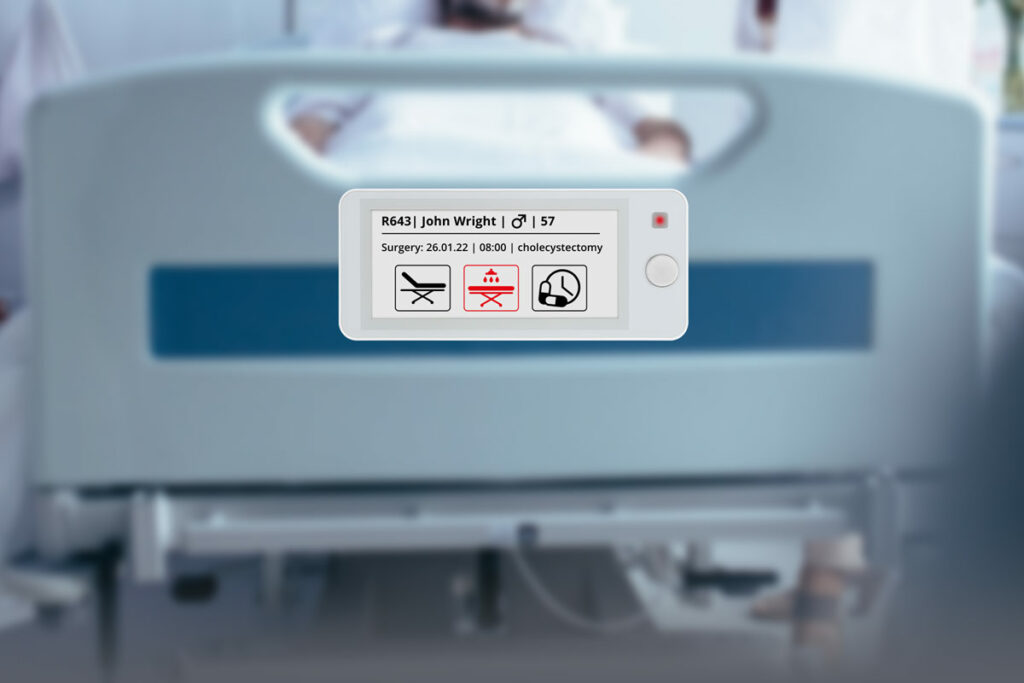 Detailed information on smart e-labeling systems is available via the following link: https://www.infsoft.com/e-labeling
DOWNLOAD