The professional world is in a process of change and is thereby adapting to changing circumstances and demands. Digitization and globalization are important drivers of change as they make it possible to work from anywhere at any time. Fixed working hours are increasingly being replaced by more flexible models and employees no longer spend their working day exclusively in the office but are also working from home or on the road.
In light of these new working models, smart buildings and smart office applications are becoming increasingly popular among companies. The aim of these solutions is to increase satisfaction and productivity among employees. The data collected in this way can also serve as an important basis for decision-making for building operators.
infsoft, a provider of real-time location systems based in Großmehring near Ingolstadt, Germany, has recognized the trends of the new world of work and developed products that make workplaces and buildings more intelligent.
Mobile Apps for Employees
An extensive employee app gives employees access to a wide range of relevant information and useful functions related to their job with just a few clicks. The application accompanies and supports the employees' workday from their journey to work until their way home. The diverse functions range from room booking to networking with colleagues – with a Colleague Finder, for example, it is possible to share one's location with colleagues at any time. In addition, useful features such as the current menu of the canteen and information on public transport and available parking spaces in the parking garage can be integrated.
Another component of such an app can be a navigation solution. This is particularly useful for orientation in large buildings and on vast campus areas. The indoor positioning based on Bluetooth beacons works seamlessly across indoor and outdoor areas (automatic switch to GPS) and all floors. A digital map of the building can display not only the user's own location, but also relevant destinations in the building such as meeting rooms, printers and work areas. Additional information such as equipment features, current availabilities and booking options can also be stored for the individual destinations.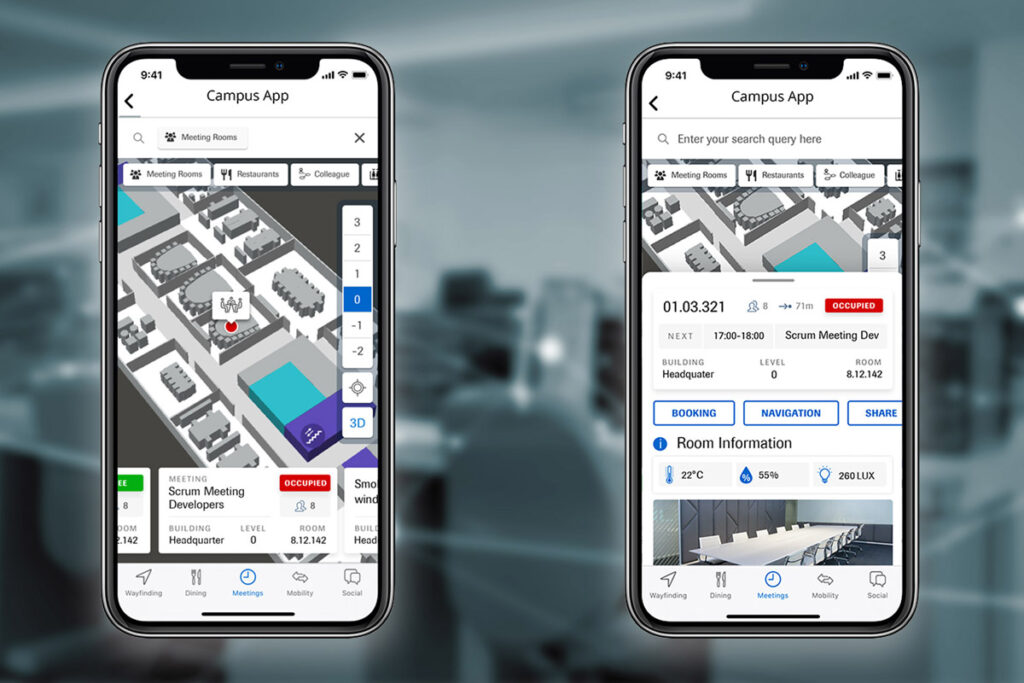 Shaping Modern Workplaces
When it comes to organizing workplaces, desk sharing is an important keyword. In addition to many advantages, however, this concept also poses the problem that employees have to find an available desk every day. The use of intelligent sensors addresses this problem by automatically recording which workplaces are currently vacant and which are occupied. Employees can then easily access the information via an app and quickly find the next available desk. Booking options for workplaces and meeting or focus rooms are also available within the application.
Furthermore, the data on workplace and meeting room occupancy is relevant for businesses in order to optimize the usage of available space.
To promote the productivity and health of employees in the office, a system for controlling and optimizing the room climate can be implemented. For this purpose, the environmental conditions (e.g. temperature, relative humidity, carbon dioxide level in the air, lighting intensity) are continuously measured and controlled by sensors. In the event of deviations from the ideal value, countermeasures can then be taken promptly. Optionally, via a connection to the building control system, adjustments (e.g. temperature settings) can also be made directly in an app or automatically.
Digitization and Process Automation
Digital labeling of rooms ensures increased transparency and better utilization of meeting rooms. The technology can also be used to label lockers. Moreover, a link to the room booking system or the employees' calendars enables the automatic update of signs.
The inventory of assets can also be handled more efficiently with a tracking solution. In addition to relevant characteristics of the assets, status, utilization information and their location can be registered. The user interface also provides options for grouping and filtering the assets. In addition, it is possible to set up automatic notifications, for example as a reminder of an upcoming maintenance date and to reliably protect assets from theft by setting up alerts. By connecting the inventory system to the employee app, required equipment can also be booked and analyzed with regard to frequency of use.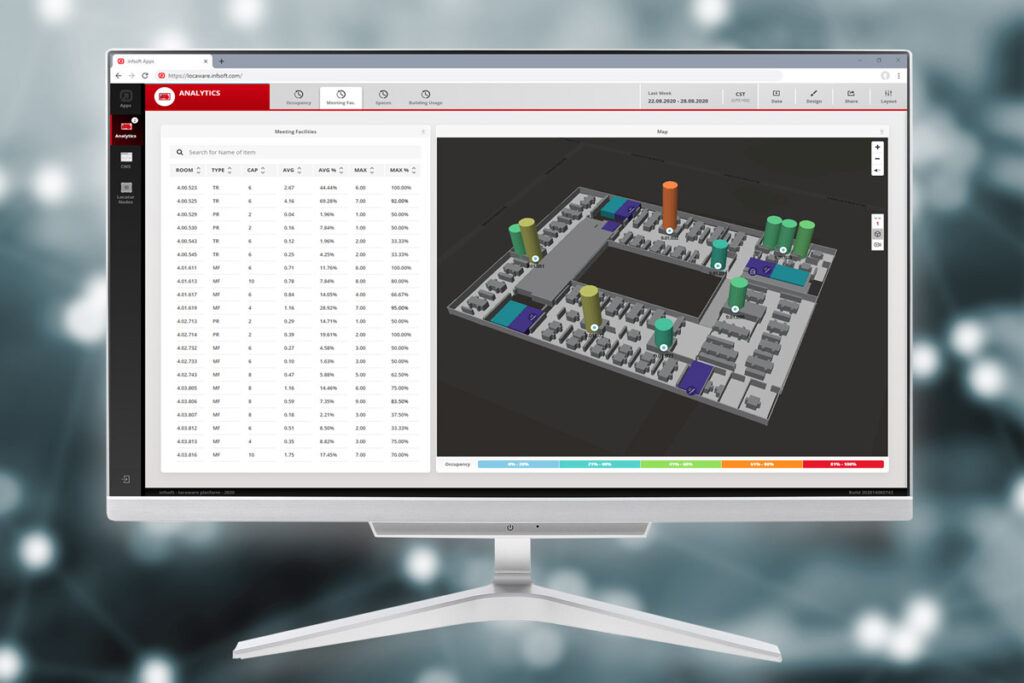 Full-service provider infsoft offers ready-to-use products for all the above-mentioned applications. "We are always responding to current trends and are constantly developing new innovative applications, most of which are based on cost-effective and low-maintenance Bluetooth Low Energy hardware. For customers with very specific requirements, we also offer customized solutions, of course," explains infsoft CEO Tobias Donaubauer.
For more information about infsoft's products, including pricing models, interested parties can visit www.infsoft.com/products.
DOWNLOAD