There are many ways indoor digitization can benefit buildings. Digital recording of interior spaces serves multiple customer requirements, such as easy orientation, efficient management of buildings, and connection of digitized processes and information with building structures, interior attributes and building facilities.
infsoft's Indoor Mapping Solutions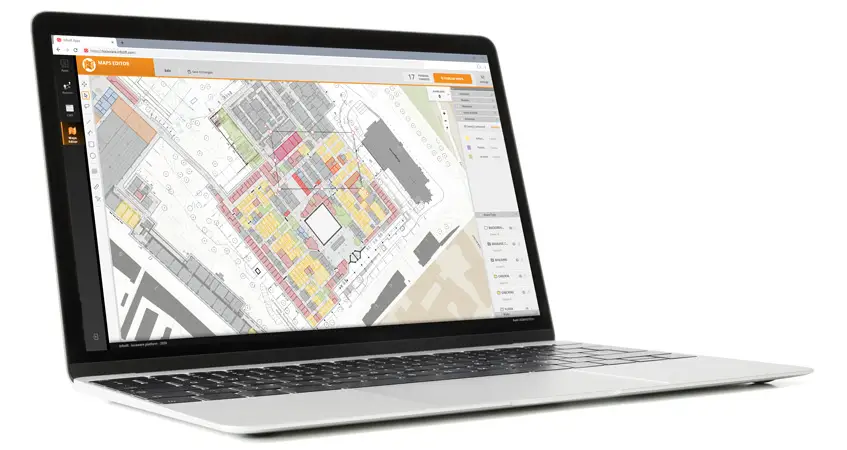 infsoft offers an innovative, easy way to capture even large, complex indoor environments. Using the infsoft Maps Editor, a location can be created with just a few clicks and can then be easily managed afterwards. Mapping a location is the first step in any indoor positioning project – and crucial for accessing the digital value of indoor spaces. It provides access to digital maps and to every layer of building information, allowing all indoor processes to be digitized.
Using the web-based Maps Editor, blue prints can be easily adapted to the outline plan of any external provider. It is possible to manage Points of Interests in different categories with various properties and to define and change information such as opening times and images at any time. Another built-in feature of the Maps Editor is the definition of path relationships for the navigation of users within the building levels. Defining landmark POIs for turn-by-turn navigation enables facilitating orientation for the building user and integrating prominent infrastructure waypoints in the map.
The integration of digital maps enables indoor navigation within a building. Seeing one's position on the map, users can navigate to any chosen destination, following step-by-step directions on a virtual path.
Besides providing access to digital maps and indoor navigation, the capabilities of indoor digitization can be extended far beyond that: it lays the foundation for the use of indoor tracking, indoor analytics, and geo-based services.
Get the white paper for free
Great introduction to the topic of indoor positioning
Any questions or ready to get started? Get in touch with us!