Indoor Navigation, Indoor Analytics and Indoor Tracking.
Made in Germany.
infsoft offers comprehensive solutions for Real-Time Locating Systems (RTLS). In addition to indoor navigation, which enables better orientation in complex buildings, our focus lies on geo-based assistance systems with analytics and tracking functionalities. We provide ready-to-use B2B solutions for the digitalization of facilities and the automation of processes in a wide range of industries.
Basics
Start here if you are new to indoor positioning. Discover how indoor localization works and find suitable solutions for your application.
Products
We at infsoft offer innovative out-of-the-box solutions with powerful and advanced features. Get to know our extensive product portfolio.
Platform
Our web-based tools are bundled in the LocAware platform®. infsoft technology is also available for integration into third-party apps.
Industries
RTLS (real-time locating systems) can be put to benefitial use in many industries. We introduce you to the most common sectors.
Free White Papers
Are you looking for essential information about indoor positioning and related services? Or are you already on the verge of starting an RTLS project? We have the perfect publication for you! Read our white paper comfortably online or download it for free.
Since GPS is not available within buildings, we use Bluetooth beacons, Wi-Fi or Ultra-wideband for indoor positioning. Our positioning systems are based on specialized hardware and powerful software tools bundled in an IoT platform, the infsoft LocAware platform®. There are numerous ways our ready-to-use products can drive optimization and automation. Discover our portfolio now!
Our systems enable the successful realization of RTLS solutions and exploit valuable geo-based data. We provide you with intuitive tools so that you can benefit from an end-to-end optimization of all processes and resources. Within an area, we can locate anywhere – not only indoors but also outdoors. infsoft technology is also available as an SDK and can be used in third party systems.
Get to know us!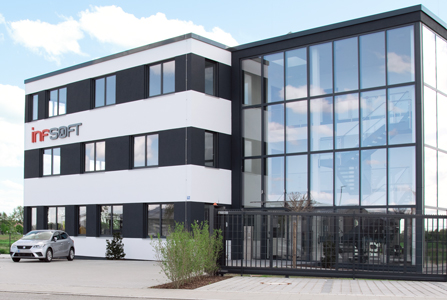 Our Clients Are the Focus of Our Attention
We create individual RTLS solutions for our clients in a wide variety of industries.