In a sample storage facility, the use of an intelligent tracking system enables the localization of storage boxes and thus ensures that samples are examined on schedule. In addition, the search effort is considerably reduced.
AT A GLANCE
LED identification to reduce the search effort
localization of stored samples within the laboratory
information on the sample stock (date of deposit, sample type, etc.)
PROBLEM DEFINITION
Securing the information on stored samples is an essential part of the storage process, as unidentifiable stored samples are useless and serve no purpose. Therefore, laboratories must meet the highest quality and process requirements to avoid incorrect allocation of samples. The effort that is made to minimize the error rate is very high both on the personnel level and on the investment level. In order to reduce costs, a good and uncomplicated marking of storage locations is an important factor.
SOLUTION
With the E-Ink Display Beacons it is possible to organize an automated inventory management without influencing the laboratory operation in its processes. By marking the boxes for sample storage with E-Ink Display Beacons, the sample can be assigned to the box via a QR code or barcode when taking samples from a box. The sample collection/entry process is registered by the ERP system and shown on the display.
In addition, the locating function of the E-Ink Displays can be used to find samples quickly. Employees can search for the desired sample via an application on their smartphone and find the storage location by remote command. A command is sent to the display to indicate the location of the sample to the user via its LED.
TECHNICAL IMPLEMENTATION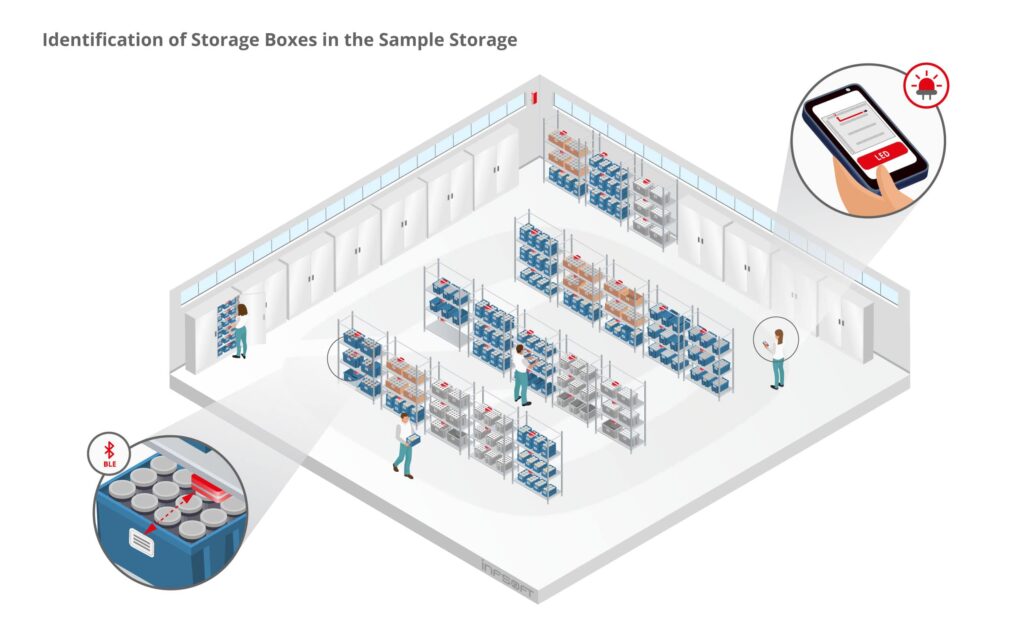 E-Ink Display Beacons are attached to the containers with samples. infsoft Locator Beacons are attached to the shelf levels at regular intervals within the lockable metal cabinets. Additionally, there is one infsoft Locator Node per storage room, which is connected to the network. To locate the containers, infsoft Locator Nodes receive the Bluetooth signals of the beacons and send the data to the infsoft LocAware platform®. Here the data is processed intelligently, and the position is determined. This can then be viewed on a digital map via an app or browser application.
The labeling of the E-Ink Display Beacons can be realized via an interface with the ERP software. The content is transferred via Bluetooth from an infsoft Locator Node to the E-Ink Display to be labeled. The information on the display can be automatically adjusted by the infsoft Automation as soon as the inventory changes.
The company can access the data via a browser application. In addition, the infsoft Analytics tool also allows the historical data to be retrieved, evaluated and compared with the real-time data at any time.