In the era of flexible working environments, the use of E-Ink displays enables businesses to offer their workforce a dynamic locker solution.
AT A GLANCE
digital information display for lockers
real-time updates
(optional) integration with an employee app
PROBLEM DEFINITION
Workplaces of the future increasingly rely on flexible working hours and open-space models with multi-user workstations. As a result, the demand for lockers is also increasing, as they provide a secure solution for storing valuable items or documents near the assigned workstation. However, classic lockers offer little flexibility, can only be labeled manually, and cannot be adapted to specific situations, wishes and requirements of the company or its employees.
SOLUTION
Using E-Ink displays for labeling purposes enables businesses to develop a dynamic locker solution. The display content can be individually designed with the desired textual and visual details. For example, the name of the person who booked the locker and information about their presence (e.g. on site / on a business trip) are usually displayed. An LED multicolor indicator shows whether the locker is currently free or blocked.
The solution can also be integrated into a mobile app. Users can then quickly and easily locate available lockers, reserve a locker for themselves, and view the location of the booked locker on a digital map at any time.
TECHNICAL IMPLEMENTATION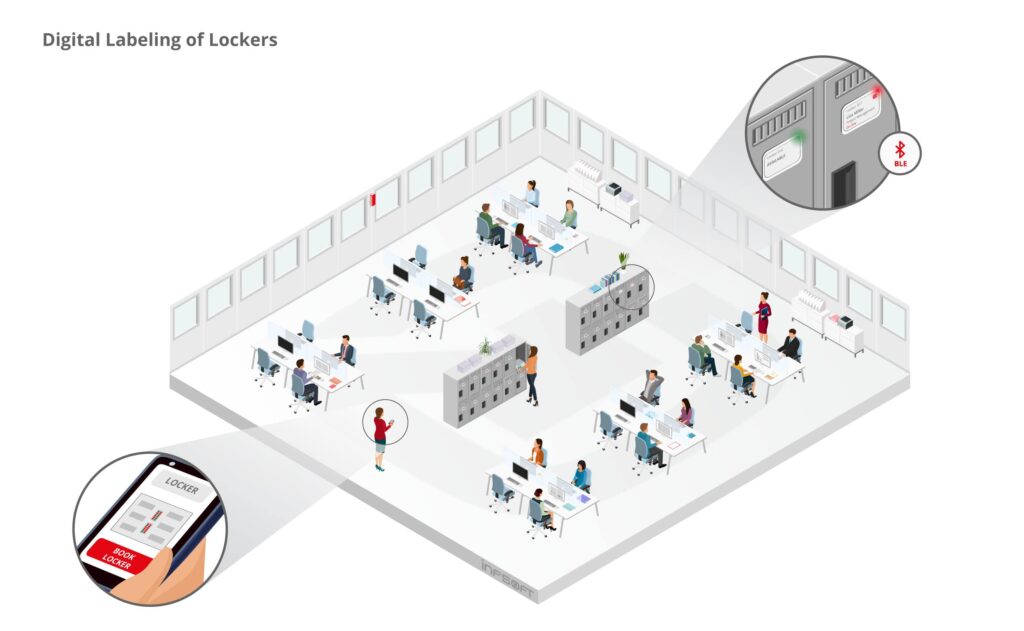 infsoft E-Ink Display Beacons are attached to the lockers. An infsoft Locator Node 1400 is installed on each floor of the office building. After defining corresponding conditions in the web-based infsoft Automation tool, the displayed content on the E-Ink beacon can be updated automatically. Via Bluetooth, the content is transferred from an infsoft Locator Node 1400 to the E-Ink display to be labeled. Interfaces to third-party software such as time recording, calendar and room booking systems can provide necessary information (e.g. employee presence, locker reservation).