A digital signage solution with E-Ink displays offers building users added value by displaying live information (e.g., building plans, security notices, room occupancy information).
AT A GLANCE
digital map on each floor
display of POIs, safety instructions, room occupancy information
dynamic content adjustment
PROBLEM DEFINITION
Employees and visitors do not always find their way around large office buildings straight away. Using paper notices with site plans and safety instructions is confusing and outdated.
SOLUTION
Digital floor plans are a modern way to provide signage and save building operators a lot of time by eliminating the need to print out paper pages and pin them manually. An information screen at each key access point (e.g., near elevators) maps the building floor plan and provides live information on points of interest (e.g., meeting rooms, restrooms, emergency exits) and room occupancy. This content is adjusted dynamically and updated in real time. Temporary messages can also be displayed (such as information about an upcoming company vacation or construction work in the building). Updating is done centrally via the software and can also be automated.
The use of the E-Ink technology eliminates the need for complex cabling, as the displays are battery-powered and supplied with display information via Bluetooth communication.
TECHNICAL IMPLEMENTATION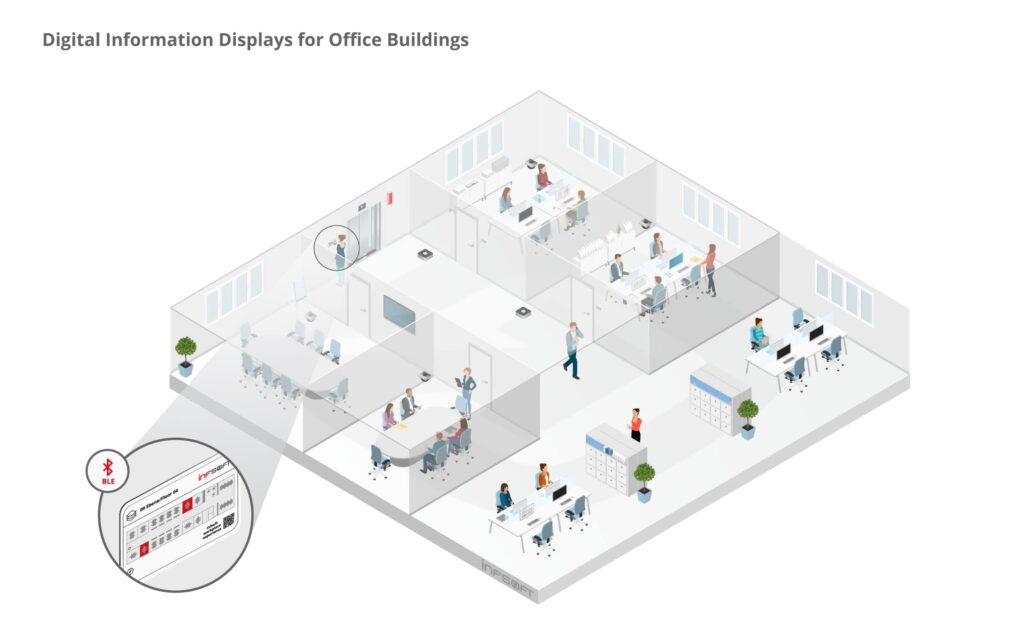 On each building floor, infsoft E-Ink Display Beacons are mounted on the wall at central locations. In addition, one infsoft Locator Node 1400 is installed per floor. To display content on the infsoft E-Ink Display Beacons, the desired content and the targeted devices are selected via the infsoft LocAware platform®. The content is then transferred via Bluetooth from an infsoft Locator Node to the E-Ink displays to be labeled. The display content can be automatically updated at any time – via infsoft Automation, by defining corresponding conditions. Room occupancy information can be retrieved via interfaces to calendar/room booking systems and/or through PIR sensors installed in the meeting rooms.
This solution can be optimally complemented by a digital room signage system, a solution for workplace occupancy monitoring, and/or a workplace experience app.