The RTLS market is experiencing strong growth and many companies are recognizing the opportunities associated with implementing such a solution.
WHAT IS RTLS?
RTLS stands for Real-Time Locating System and describes a solution that enables locating people and objects outdoors as well as indoors in real-time. The determination of a location is the basis for a variety of applications. These include indoor navigation, tracking, analyses and location-based services. Furthermore, automatic alarms can be generated and messages can be sent as soon as predefined areas are entered or left (geofencing).
Besides positioning, additional relevant data can be collected by installing condition sensors in the room. Condition sensors can, among other things, measure humidity, temperature and brightness in a room. Like this, it can be controlled that it is cold enough in a cold storage warehouse, that the humidity in an archive room doesn't exceed a certain value, or that the CO2 load in a closed room doesn't get too high. Infrared sensors can be used to determine room occupancy.
WHY IMPLEMENT RTLS?
By using real-time localization, a large amount of data is collected. This data allows important insights and is the basis for various applications and analyses which help realize great advantages for companies. More precisely and just to name a few of the numerous benefits, processes can be optimized, costs saved, theft prevented and security and safety increased.
WHICH INDUSTRIES CAN PROFIT FROM RTLS?
Installing a localization system offers multiple benefits across a wide range of industries and companies of all sizes. RTLS is in especially high demand in healthcare, industry, retail, hospitality, construction, offices and at airports and railway stations. However, the applications are so diverse that the possibilities are extensive and virtually any industry can benefit from a localization system.
WHAT CAN BE LOCALIZED USING RTLS?
On the one hand a localization solution is used to determine the position of people. This is particularly useful if it is desired to gain insight into visitor behavior or if a building needs to be evacuated. Furthermore, positioning can be used for indoor navigation. This facilitates orientation in a building and rooms and other points of interest can be found easily.
On the other hand, the position of various assets can be determined. These include smaller objects such as laptops in an office, but also hospital beds, boxes in warehouses, vehicles and much more. It is possible to track objects that are stored and remain in the same place for a long time, as well as objects that move around quickly.
WHICH TECHNOLOGIES CAN BE USED FOR POSITIONING?
There are various technologies for locating people and objects. These differ mainly in range, accuracy and installation effort and costs. Which technology should be implemented always depends on the particular situation and requirements.
he most common technologies are Wi-Fi, Bluetooth Low Energy (BLE), ultra-wideband (UWB) und RFID.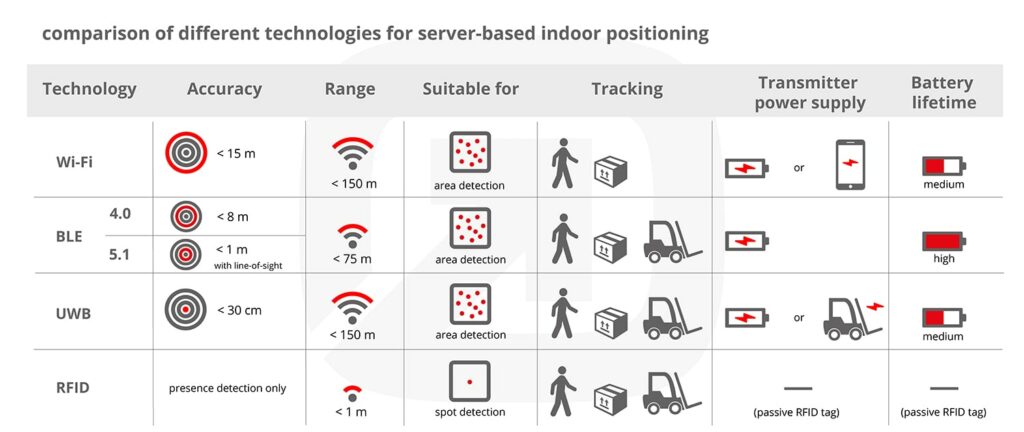 SERVER-BASED VS. CLIENT-BASED?
Furthermore, a distinction must be made between server-based and client-based positioning. The position can either be determined on a server or directly on a smartphone or other mobile device. Which approach should be used always depends on the specific use case. Server-based positioning is used mainly for the tracking of people and assets, while client-based positioning is used mostly for indoor navigation.
WHERE CAN I FIND USE CASES?
You will find a large number of applications from different industries here.
If you wish to plan and implement an RTLS project for your business, please contact us.