In industrial applications, a large number of sensor technologies are used to improve processes and make them more efficient. With the help of tracking solutions, processes can not only be optimized in production facilities, but also the working environment of people can be made more efficient and more pleasant.
---
Each technology has individual strengths and weaknesses, from which the various applications can be derived. In this blog entry we try to show you the strengths and weaknesses of the available technologies.
RFID FOR OBJECT IDENTIFICATION
RFID is a form of wireless communication that uses radio waves to identify objects. This tracking solution offers only a very short range (usually less than one meter), which makes the technology particularly suitable for inventory management. The low cost of RFID tags makes them ideal for identifying a large number of items. In addition, the tags are robust and maintenance-free (passive – no battery required). The possibilities of RFID tags can be significantly expanded once again by using infsoft Locator Nodes. For example, if industrial trucks are equipped with locator nodes, the material flow can be tracked via a central control system.
BLE FOR INVENTORY MANAGEMENT AND INDOOR NAVIGATION
In the industrial environment, the use of Bluetooth Low Energy is the most frequently used technology, since the installation effort of Bluetooth Low Energy Beacons is very low and the battery life very high. Inside, they have a maximum range of 75 meters and an accuracy of less than eight meters.
If these beacons are used for indoor navigation, dynamic installations are also possible. This is then a client-side position determination which usually takes place via a smartphone. Installation is very flexible and simple, as there are different housings and protection classes. Bluetooth Low Energy (BLE) technology enables battery operation for two to eight years without the need for external power supply. When used in combination with infsoft Locator Nodes to determine the position on the server side, virtual danger zones can also be set up across borders in large production halls.
ULTRA-WIDEBAND FOR FORKLIFT LOCATION
Indoor tracking in industrial environments sometimes requires very accurate positioning. The accuracy when using Ultra-wideband is less than 30 centimetres and is therefore significantly higher than that of beacons. Differences in height, for example when storing in high rack systems, can also be determined very precisely. However, this technology results in higher acquisition and installation costs and shorter battery life. This tracking solution is recommended for applications with a small number of assets to be tracked.
Applications include, for example, the location of forklifts and industrial trucks. In extensive storage systems, for example, the position of forklifts can be recorded and their location, service life and movement history can be retrieved. With the help of forklift tracking, incorrect deliveries or incorrect stock levels can be avoided. In a warehouse or production facility, tools such as forklifts can be located with high precision. In addition, the vehicle can be oriented (direction of view), for example in poor visibility conditions. The analysis of running and travel paths – e.g. in a production plant – can help in route and process optimization and provide key figures for decisions.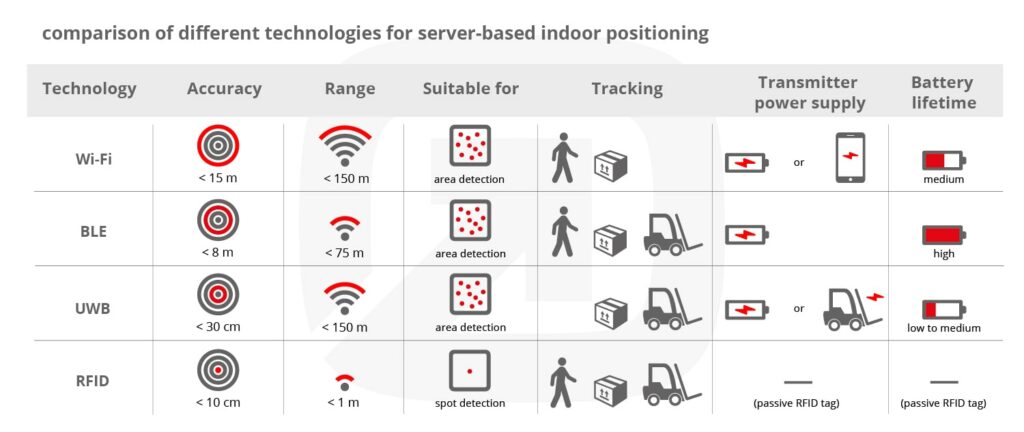 ULTRASONIC SENSOR FOR LEVEL MEASUREMENT
Ultrasonic sensors play a role in industry when it comes to precise detection of objects and contactless level control. You can measure the amount of material of liquids or solids in a tank and trigger a message when the maximum level is reached. Ultrasonic technology has several advantages, including high signal stability, high frequency, high sensitivity and good penetration. The sensors are easy to operate and safe to operate for nearby objects, people or materials.
Ultrasonic signal transmitters are direction-dependent, i.e. distance calculations based on the transit time measurement are only valid if sensor and object are facing each other. In situations without visual contact, the accuracy of ultrasonic localization solutions may deteriorate due to reflections (echo effect). An ultrasonic-based tracking solution, for example, fully automatically maps container movements in the automotive industry and ensures optimized and efficient material supply.
IR SENSORS FOR TRACKING MOVEMENT AND TEMPERATURE
Like ultrasound, infrared (IR) is one of the condition sensing sensors. This technology plays a major role in issues such as Industrial Safety & Control and Energy Savings. The use of thermopile sensors enables the detection of unauthorized persons in the safety area of dangerous machines. The temperature monitoring enables the operator to recognize the impending danger and to take preventive measures. The IR sensor can be used for positive environmental contributions and energy savings. Thermopile arrays allow people to be counted, supported by WLAN monitoring. Suitable office automation solutions enable heating, air conditioning and lighting control to be adapted to actual room use.
CONCLUSION
As a rule, the search for the most suitable technology must take into account the system requirements, the local conditions and the budget. Often the most efficient solution is achieved through a combination of technologies. The above is intended as a guide for determining the most suitable technology.
We are happy to help you find a solution that works best for you – don't hesitate to get in touch.