Data security is an important topic in the Workplace Experience App's various applications. This blog post explains which specific procedures and measures are implemented within the Workplace Experience App to protect user data as best as possible in accordance with the applicable data protection guidelines.
---
Workplace Experience App
The Workplace Experience App is a mobile application that centralizes all relevant information about employees' daily work routines. The app includes a variety of features, including navigation and indoor location, room and workstation booking, ticketing systems, and communication tools. The app enables precise localization by utilizing technologies such as Bluetooth Low Energy and ultra-wideband, making daily work easier for employees and visitors.
Questions & Answers
1. How are personal details managed? Is personal data stored?
The Workplace Experience App does not collect any personally identifiable information on its own. The information needed for the employee login to use the app, such as name, e-mail address, employee images, or departments, is obtained from the company's own Active Directory. The login occurs through a typical company login (single sign-on) and is protected by the company's security measures, such as multifactor authentication.
To use certain functions, such as the Colleague Finder or the Dining area filter options, the user must actively agree to the generation and storage of data. The Colleague Finder, for example, allows users to opt-in to share their own workstation booking or current live location with selected people. When the Colleague Finder is active, only the most recent position (no historical history) is saved. The data is immediately deleted upon termination or deactivation.
The shared location or workstation bookings are only visible to approved users and cannot be viewed in the backend by superiors or others. Sensitive areas, such as toilets, can be excluded, resulting in no stay being displayed in those areas.
Users can filter dining information from the canteen based on their dietary preferences and potential food intolerances. Filtering options in the Dining section are saved upon approval and then linked to the user's login to reflect the relevant content across all platforms, ensuring a consistent user experience.
In general, the company provides personal data such as name, e-mail address, or department affiliation, and users are made aware of the generation and storage of data when using certain features that require active consent. The security and protection of personal data are of the utmost priority.
---
2. Who can view or evaluate which data? Who can access the information?
The Workplace Experience App does not collect personal user usage data for analysis purposes. If desired, general usage information on app functions can be analyzed, but it cannot be linked to a person.
The utilization data on workstations, meeting rooms, and focus areas, which is also provided in the Workplace Experience App, is recorded using infrastructure sensors and does not allow for any personal reference. Areas with fewer than five people recorded are not evaluated using the <5 rule.
For the duration of the sharing, data from the Colleague Finder is only visible to the user and persons approved by the user. The data is then deleted and is no longer accessible to third parties.
---
3. Can my phone be located through BLE beacons that are installed?
Unless the user actively shares position information with colleagues that he has enabled for this purpose, positioning is done client-side on the smartphone. The last position is saved on the server side during sharing in this case. The infsoft Locator Beacons used for positioning send out signals that the smartphone evaluates. Similarly, Locator Beacons can periodically scan the environment for asset tags (locating mobile equipment or inventory), but they cannot detect or locate Bluetooth signals from cell phones.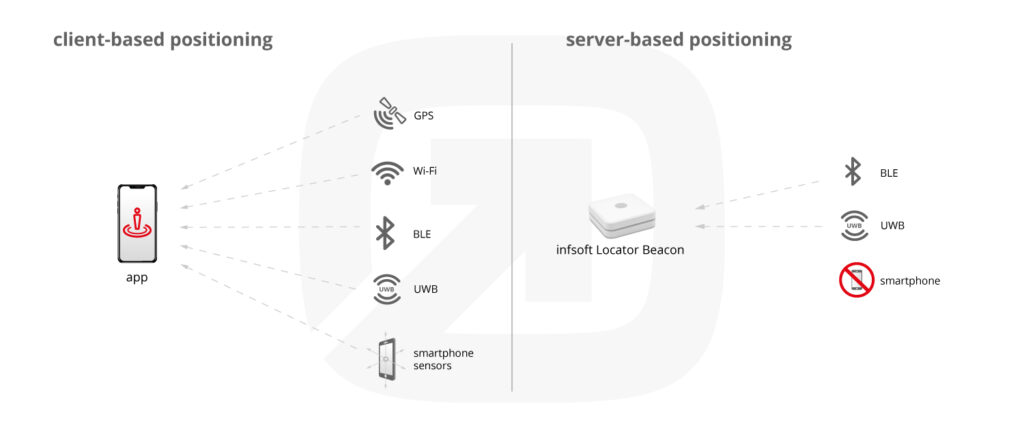 ---
4. Can superiors use the Workplace Experience App to monitor employee activities?
Supervisors cannot track employees' work performance or whereabouts using the Workplace Experience App. Individuals cannot be checked using utilization analytics sensors because there is no identification of individuals. Through Colleague Finder, one's location can be shared with supervisors, but this is limited to the current record and does not allow for whereabouts histories. Individuals must specifically activate and enable the feature. Deactivation can be performed at any time. Similarly, restrooms are excluded from location tracking and sharing.
Separate functions in the application are available for external service providers such as cleaning companies to manage, for example, demand-oriented cleaning processes. There is a legitimate interest in the evaluation of cleaning services and service charging in this case. Cleaning services can be requested through the app and acknowledged by the cleaner. Analyses of the number of areas to be cleaned in each category, time spent, and other evaluations are all possible.
---
5. Will employees become transparent by using the Workplace Experience App?
In a nutshell: No. The application uses existing Active Directory data for app identification and gives the user control over all data generated if additional functions are used. The user has complete control over what data is shared with whom and can, for example, quickly and easily revoke corresponding position releases. There are no personal evaluations, and the data cannot be viewed by superiors or other third parties. The application incorporates the principles of data economy and purpose limitation.
The Workplace Experience App is a useful tool for improving company collaboration and centralizing relevant information for employees while ensuring data security. If you have any questions, please do not hesitate to contact our experts.