A tracking solution helps to guarantee the freedom of movement and the safety of dementia patients while reducing the workload of nursing staff.
AT A GLANCE
registration of resident elopement
notification to staff
PROBLEM DEFINITION
Many people suffering from dementia are accommodated in care facilities. Against the background of omnipresent problems such as the skills shortage and the increasing need for nursing care, caring for those affected is a major challenge for the often overburdened staff. In the context of orientation difficulties, the majority of dementia patients have the tendency to wander off. If a resident leaves the facility unnoticed, this may lead to dangerous situations in road traffic and long search operations.
SOLUTION
In order to increase the safety of residents with orientation disorders and to relieve the nursing staff, the location of persons in need of protection is determined in strategically relevant areas. The system registers when a person with dementia leaves the facility and automatically triggers a notification to personnel. The resident can then be accompanied by an employee or prevented from leaving the area.
TECHNICAL IMPLEMENTATION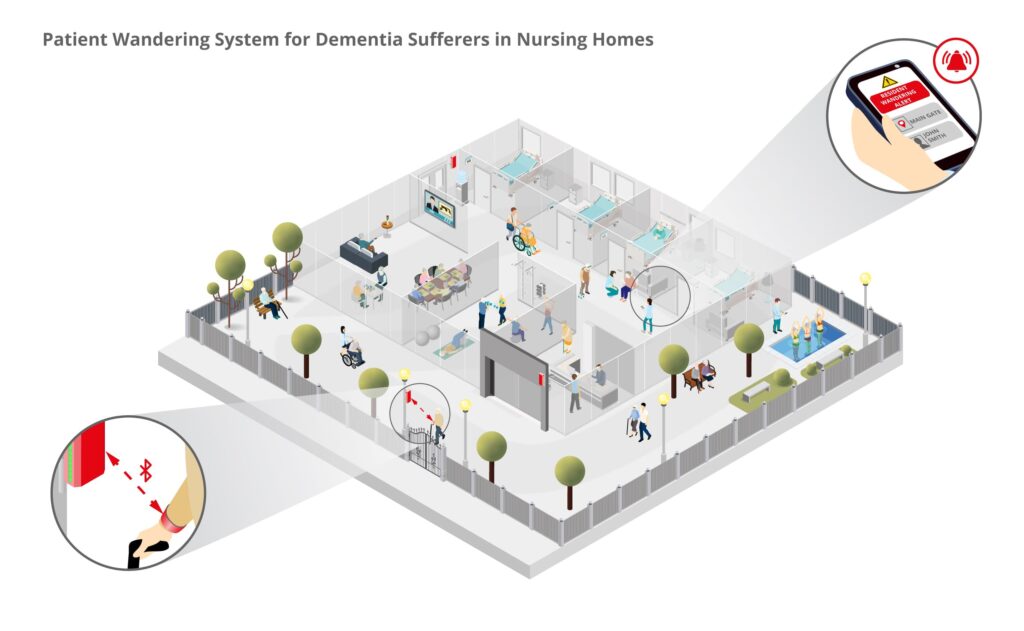 A central component of the patient wandering system is a Bluetooth Low Energy (BLE) beacon, which is worn permanently by the residents in the form of a wristband. An infsoft Locator Node is installed at each building or property exit (outdoors in a robust IP66 housing). The Locator Node receives the Bluetooth signals from beacons within range and transmits the data to the infsoft LocAware platform®, where it is processed and made available via web services. The Locator Node registers when a resident leaves or passes a defined area, and the system triggers an alarm (e.g. push notification to smartphone or beeper) that includes the location and name of the affected person. Conditions and actions are defined via the web-based infsoft Automation.
The use case can be extended in many ways to further increase the security of the residents. Among other things, it is possible to monitor vital signs or prevent falls on the basis of infrared sensors or beacon wristbands with motion sensors.