A workflow management app helps to quickly locate medical equipment to be serviced and to ensure efficient maintenance workflows.
AT A GLANCE
2D/3D building maps
client-based positioning and indoor navigation
access to technical documentation
PROBLEM DEFINITION
Medical devices need to be maintained at regular intervals in order to function properly and to meet both quality and safety standards. This maintenance work is usually performed by external service providers on site at the medical facility. Given the extensive building structures, the technicians sometimes have problems finding the affected units quickly. Also, relevant technical data and current status information on the equipment may not always be readily available.
SOLUTION
A workflow management solution ensures fast and accurate task creation and processing. Thanks to more flexible and time-saving measures, maintenance processes and thus hospital operations become more efficient.
An app informs the service provider of the maintenance order as well as the location, which he can view on a digital map and navigate to using his smartphone. Current status information and associated documents for the medical device can also be viewed (e.g., maintenance log, technical documentation). Completion of the task can be confirmed via a button in the app.
TECHNICAL IMPLEMENTATION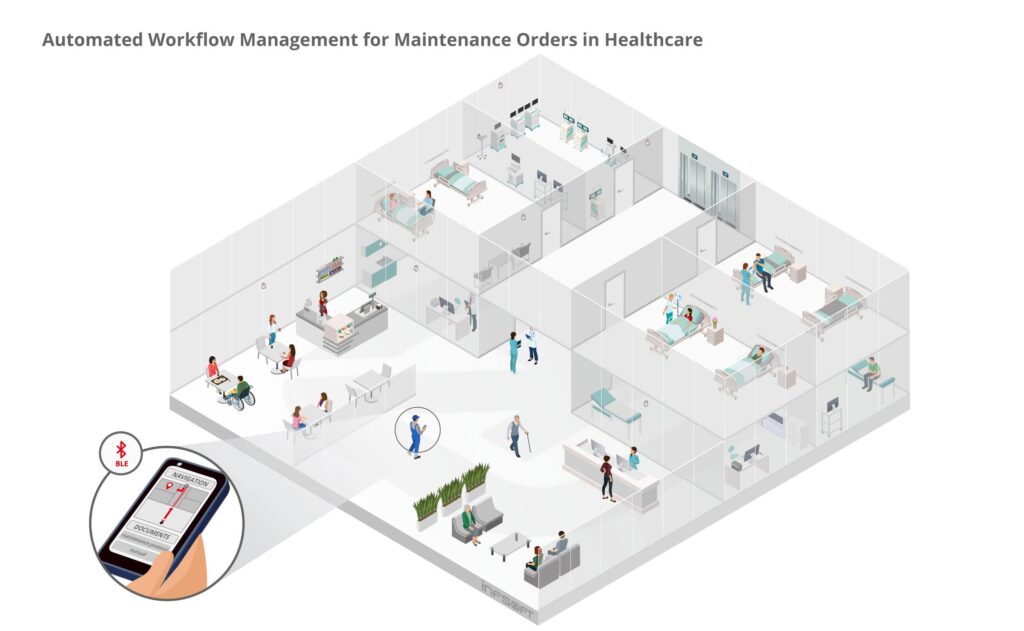 Battery-powered Bluetooth Low Energy (BLE) beacons are deployed at regular intervals throughout the hospital premises. An app installed on the smartphones of the maintenance technicians receives and interprets the beacons' signals and uses them to calculate the current position of the device, which can be used for turn-by-turn navigation to assigned tasks.
Via infsoft Workflow, additional information such as technical documents can be assigned to the medical devices. An interface to infsoft Automation allows automated tasks and notifications to be defined based on individual triggers.
---
An app can also be used to check whether the service provider's vehicle is loaded with the necessary maintenance equipment.