A tracking system provides real-time location information about truck tractors and helps improve operational productivity on a large open-air site. In addition to the location, the service life and movement history as well as the inventory can also be called up.
AT A GLANCE
2D/3D building maps
central overview of the locations and movement history of all tractors
the tracking solution works indoors and outdoors
overview of tractor status information
PROBLEM DEFINITION
On the premises of a tractor manufacturer there are countless trucks that have to be parked after production. However, it is difficult for operators to keep an overview. Finding tractors that meet certain criteria (motorization, weight, etc.) is a long-term challenge. In addition to an overview of the locations, the process flows are also to be optimized and precisely documented in order to enable an efficient organization.
SOLUTION
A tracking solution provides precise position data of truck tractors. This enables a central overview of the locations of all assets at any time. The tracking solution works both indoors and outdoors and makes a decisive contribution to safe and efficient operation. Operators can be alerted when speed, idle or site violations occur, can access reports based on the historical activity of the assets and review utilization.
TECHNICAL IMPLEMENTATION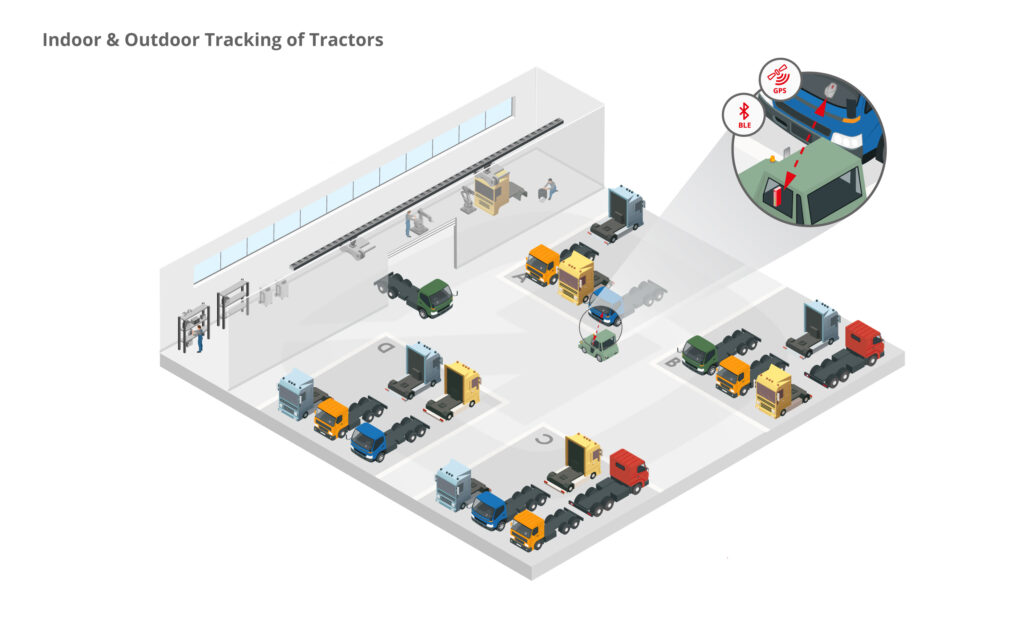 Bluetooth Low Energy (BLE) Beacons are installed in all parked truck tractors and send signals to the mobile infsoft Locator Nodes. These are located in the employees' company vehicles and receive the Bluetooth signals from the beacons and forward the data packets to the infsoft LocAware platform®. Here, the position is calculated and made available via web services. An app or browser application gives employees access to the data and displays the location of the tractor on a map. infsoft Tracking allows you to assign additional attributes such as vehicle type, inventory number and technical features to the beacons, which can then be searched for.