NEW OFFICE BUILDING
A highlight of our year is the completion of our new company building and the move into it. Just a few kilometers away from our old company headquarters in Großmehring we built a larger office building. The new space gives us the opportunity for further sustainable growth in the upcoming years. Furthermore, we are looking forward to welcoming our customers and visitors at our new premises.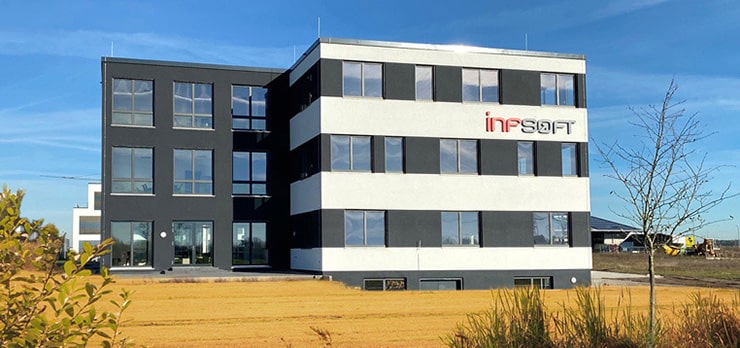 SOFTWARE
Our infsoft LocAware platform® has had a redesign this year. In addition to optimizing existing software tools and adding new features, we have also improved design and usability.
A further innovation is the transition from raster maps to vector-based maps. The advantages of this approach include the highest precision at every zoom level and improved offline use.
HARDWARE
There have also been some developments regarding our hardware. A new addition to our portfolio is, for example, the infsoft Locator Node 1400, which can be used for locating Bluetooth and Wi-Fi enabled devices and is equipped with a gateway function.
With the infsoft Locator Beacon we offer our customers a hardware component that enables a reliable, area-specific locating solution that can be implemented with comparatively low installation efforts and costs. With this hardware it is also possible to extend an existing navigation solution by adding a tracking solution relatively easily.
We have also added new E-Ink Display Beacons to our product portfolio. They are available in many sizes ranging from 1.54" to 11.6" and are therefore suitable for a wide variety of applications such as the labeling of conference rooms or containers in logistics.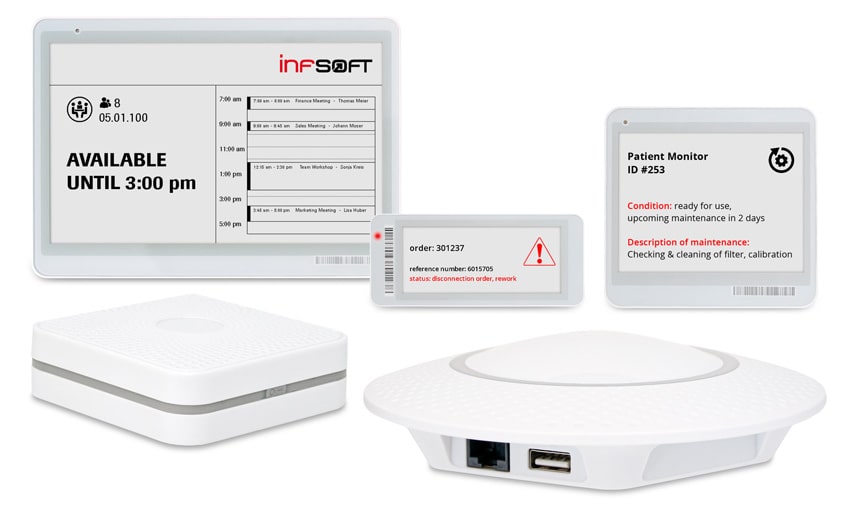 PRODUCTS
In order to further support our clients in their search for the ideal solution for their purposes, we have added ready-to-use standard solutions with powerful and modern functions to our portfolio. These products include solutions for office environments, healthcare facilities, industry and logistics. An overview of the available products can be found here.
---
We are looking forward to starting the new year with exciting projects. In order to stay up to date, you are welcome to subscribe to our newsletter.