infsoft Locator Beacons are battery-powered hardware components that are particularly impressive because of their ability to function both as receivers and transmitters and are thus suitable for asset tracking solutions as well as indoor navigation systems. Soon their features will be extended to include a repeater functionality. This will considerably reduce the initial effort and costs for the setup of a tracking system.
HOW DO INFSOFT LOCATOR BEACONS WORK?
In server-based scenarios, we use infsoft Locator Beacons to enable time-delayed asset tracking with low latencies. The Locator Beacons are programmed to receive Bluetooth signals at regular intervals (e.g. every two minutes), broadcast by nearby mobile Bluetooth Low Energy (BLE) asset tags.
In the classic application scenario without repeater function, the data is transmitted via BLE 4 from the Locator Beacon directly to an infsoft Locator Node in its vicinity. The Locator Node then sends the data to the infsoft LocAware platform® for further handling and processing. Compared to a Real-Time Locating System (RTLS) where no Locator Beacons are used, this already significantly reduces the amount of Locator Nodes to be installed.
HOW TO USE LOCATOR BEACONS AS REPEATERS?
At the moment we are working on the realization of an extended functionality of our Locator Beacons. As a result, it will be possible to build a network of Locator Beacons acting as repeaters, which can forward the collected scan data sequentially to the nearest Locator Node. This will minimize the number of required Locator Nodes to one per floor. Due to high signal coverage, in most buildings a maximum of five Locator Beacons per floor will be sufficient to forward the scan data to the Locator Node. As a long-term goal, the Locator Beacons should become able to communicate across floors, which means that eventually one Locator Node per building will be enough. Resulting from these developments, we will be able to tremendously reduce the installation effort and costs for our customers.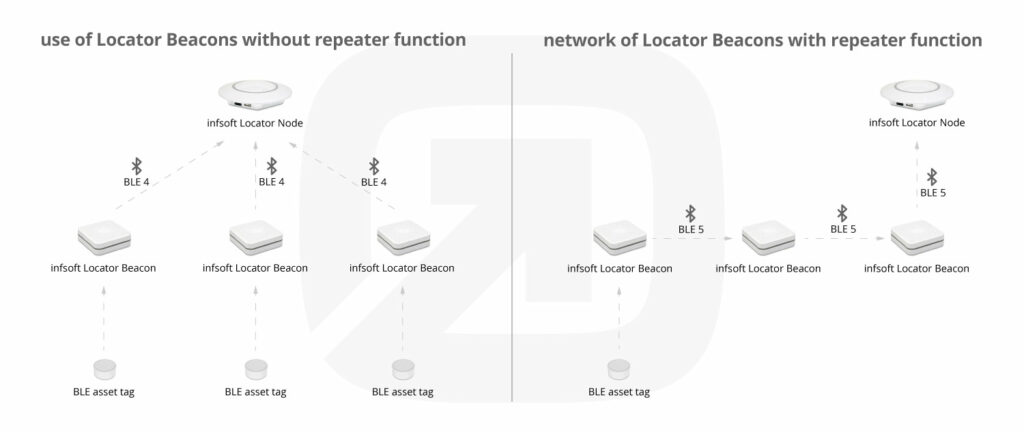 When used without repeater functionality, the Locator Beacons communicate via Bluetooth Low Energy 4 and can only acquire data packets for scan data of three BLE asset tags. Locator Beacons with repeater functionality, on the other hand, communicate via the new BLE 5 standard, which allows for a significantly higher data volume (scan data of 60 BLE asset tags) and thus longer battery life.
---