Usually, infsoft Locator Nodes are used as infrastructure hardware in our tracking systems. However, you may not need to use them if a network of Cisco access points is already in place – a great advantage, as the cabling effort is reduced considerably. We explain all the important details in this blog post.
infsoft Locator Nodes are used in our projects as Bluetooth Low Energy gateways. Installed at fixed points in the building, they receive signals from Bluetooth transmitters and pass the data to our IoT platform, the infsoft LocAware platform®. The exchange of information can take place in both directions: in addition to positioning, the Locator Nodes are used, for example, to update E-Ink displays or to control LED indicators. When using Locator Nodes, a network and power connection are required. For many customers, this entails a considerable cabling and thus cost effort.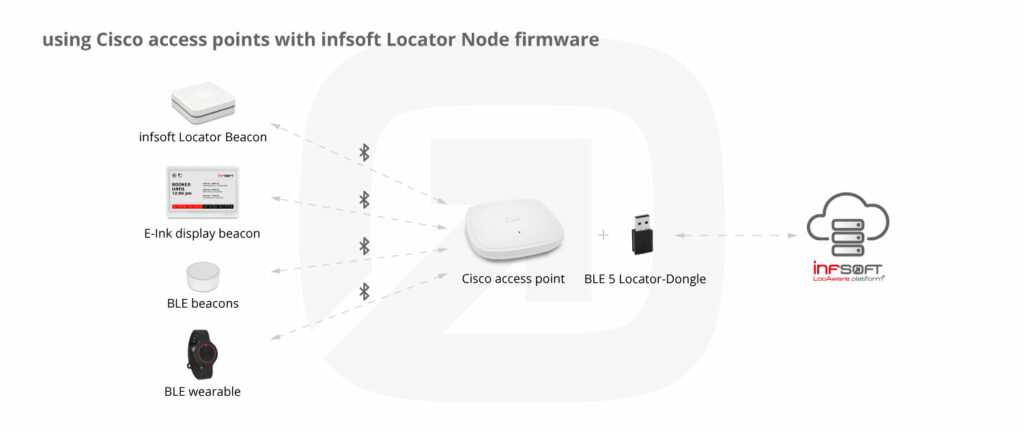 As of recently, existing Cisco access points can be used as gateways in our projects. The prerequisite is that it is the Cisco Catalyst 9100 or higher. The Locator Node firmware is provided as a Docker image on the access point. As a result, the full functionality of the Locator Node becomes available: This includes the connection of additional infrastructure hardware (infsoft Locator Beacons, E-Ink display beacons, sensor beacons) and the tracking of mobile BLE tags. All that is required is to add a USB dongle to the Cisco access point to enable BLE5 connectivity. As with standalone Locator Node hardware, the connection to the infsoft LocAware platform® is established via the network. Eliminating the need for power or Ethernet cabling results in significant cost savings.
---
Do you have questions about using your existing Cisco access point infrastructure? Don't hesitate to contact us; we will be happy to help.