This use case is concerned with casting ladles whose position in a steel mill is to be determined in real time.
AT A GLANCE
real-time localization of casting ladles
location overview including status information
PROBLEM DEFINITION
In a steel mill with a total surface of several hundreds of square meters, there are multiple casting ladles which move around carrying liquid steel. The tracking solution should display the position of the ladles on a digital map at any time in order to be able to ensure a smooth production process.
SOLUTION
The casting ladles are localized via indoor tracking. Employees have access to the current positions and can continuously track and control all movements and status information (e.g. temperature, service life, maintenance intervals) of the ladles.
TECHNICAL IMPLEMENTATION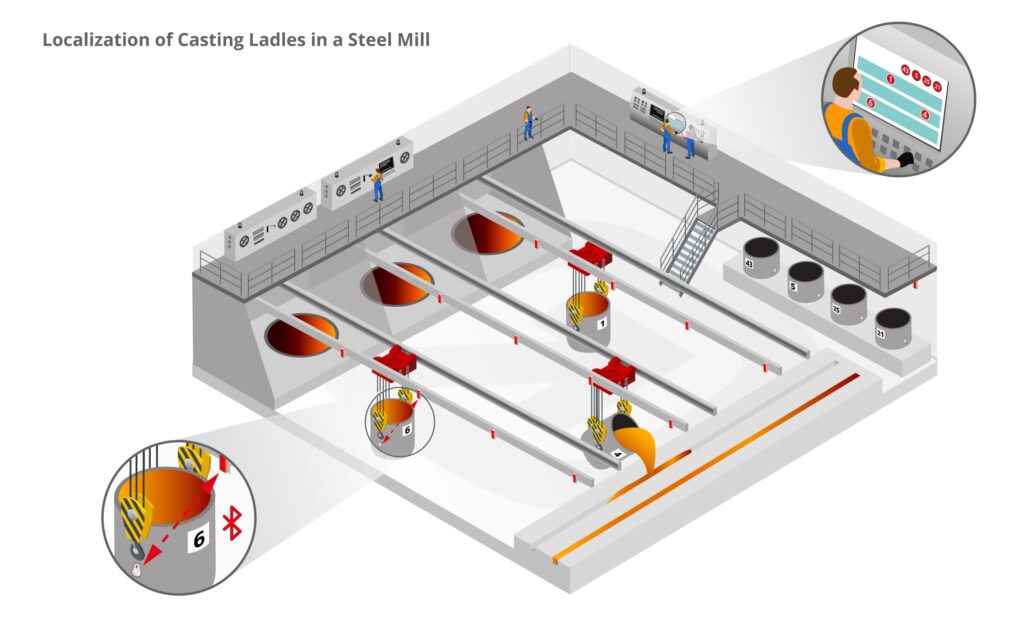 The steel ladles are equipped with Bluetooth Low Energy (BLE) beacons that are placed in a heat-resistant protective housing. infsoft Locator Nodes are evenly spread across the whole area. They receive beacon signals and transmit them to the infsoft LocAware platform® where the position is calculated with an accuracy of less than 8 meters and displayed in customizable dashboards (server-based method).