The access to areas and rooms in office buildings can be managed reliably using a mobile access control system.
AT A GLANCE
opening of doors with smartphone app
flexible management of access rights
connection with schedule and task management
PROBLEM DEFINITION
For security and confidentiality reasons, the access to certain rooms in office buildings should be strictly controlled. The problem is that many conventional access systems are inflexible and pose security risks.
SOLUTION
An access control system using a smartphone app is a safe and efficient solution to this problem. When an employee stands in front of a room that he is entitled to enter, he can simply open the door with a tap on the smartphone screen. Additionally, the technology can be used by external staff like cleaning personnel and mechanics.
In order to unlock a door with their smartphone, employees need access authorization which is stored in their profile information in the app. The authorization can be granted, changed and withdrawn at any time. Moreover, the rights to access a certain area can be given temporarily, for instance during the time a person is booked for a meeting. If desired, the assignment of access rights can be automated by linking the access control system with the employee's schedule and the room booking system.
In addition to the ease of administration, the system is very secure because access rights can be withdrawn as soon as a smartphone is reported lost or stolen. Like this, no unauthorized person will obtain entry.
TECHNICAL IMPLEMENTATION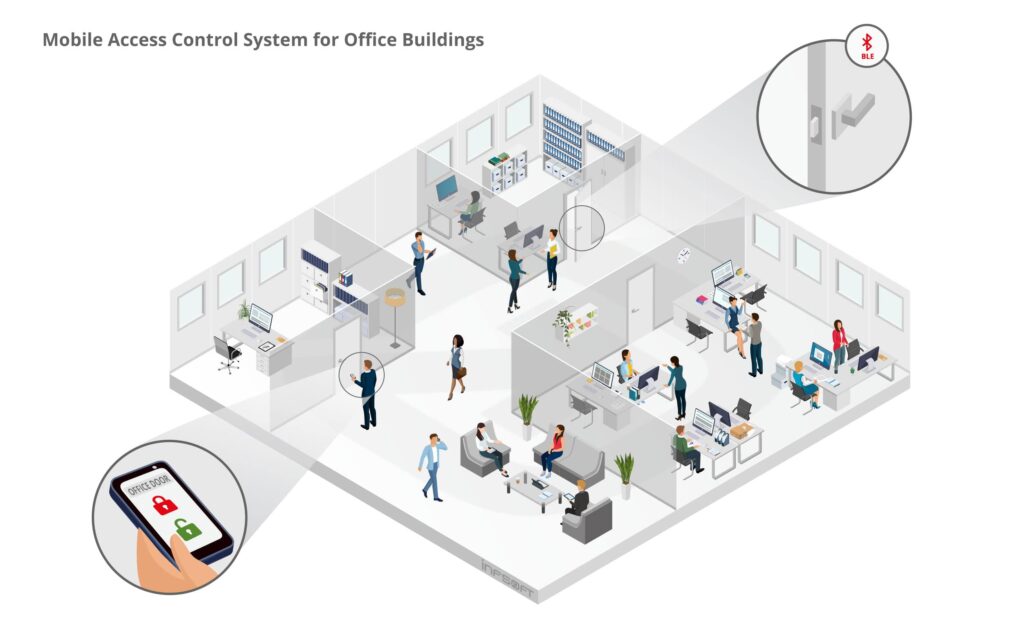 Each employee installs an app on their smartphone. In this app, personal profile information and access rights are stored. These rights are administered centrally and can also be issued automatically for the duration of a meeting if the situation allows it.
The doors are equipped with Bluetooth Low Energy modules and electronic door locks. When an employee approaches a door with their smartphone, on which Bluetooth is activated, the presence of the device is detected. If the employee is authorized to open the door, he can unlock it with a tap on the smartphone screen. Besides manual unlocking of the door, it is possible to have the door open automatically as soon as the smartphone of an authorized person is detected in close proximity.