Update January 2020: infsoft 360° Antennas are now called infsoft Locator Nodes AoA 1200.
All about infsoft Locator Nodes AoA 1200
---
Since there is a growing need to understand the location of persons or objects within buildings, the use of indoor positioning technologies has grown in industries such as logistics, automotive, healthcare and retail. In many cases, real-time locating systems (RTLS) utilize Bluetooth Low Energy (BLE) beacons. Despite their popularity due to their simplicity (inexpensive, long battery life), beacons are not suitable for all use cases. For many applications in the field of asset or person tracking, the accuracy of less than 8 meters is not precise enough. For example, implementing a beacon-based system enables you to know what section of a warehouse an item is in, but not the exact shelf or rack position. There is an emerging technology that solves this problem and opens up opportunities for numerous use cases – the Angle of Arrival (AoA) technology.
INFSOFT 360° ANTENNAS
AoA technology has spurred a new way about how to calculate location and is enabled through infsoft 360° Antennas. These receiver antennas detect the radio signals emitted by any mobile 2.4 GHz transmitter (e.g. beacon) that is in range. Based on the angle and distance determined, it is possible to calculate the position of an object equipped with such transmitter with an accuracy of 1 to 3 meters. This makes server-based BLE solutions a favorable alternative to cost-intensive Ultra-wideband (UWB) applications – as long as no centimeter accuracy is required. In comparison to using UWB tags, a beacon-based tracking system utilizing AoA technology can be set up at reduced costs (due to a much lower price per asset) and offers the advantage of a longer battery lifetime. In addition, beacons convince through their high scalability and portability.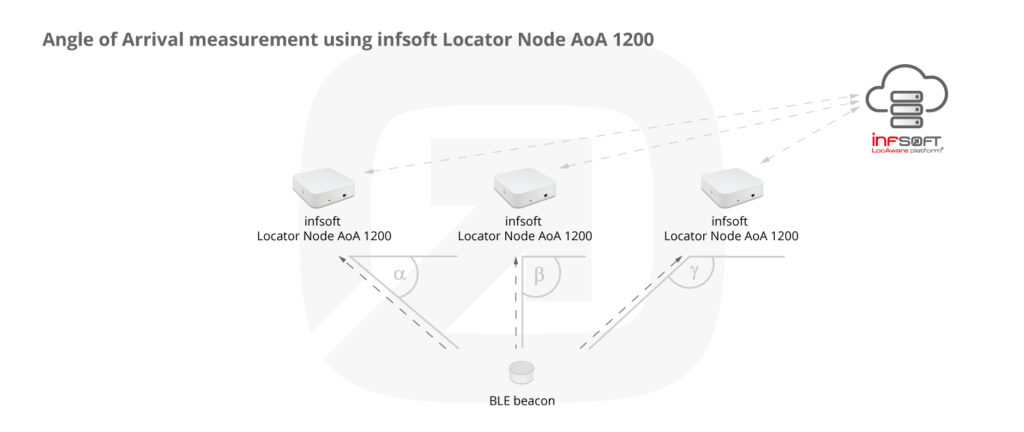 FUNCTIONALITY AND APPLICATIONS
infsoft 360° Antennas deployed in the area of interest detect incoming signals from a mobile transmitter operating on 2.4 Ghz (e.g. BLE beacon, Wi-Fi-enabled smartphone). The antenna submits the scan data via USB port to an infsoft Locator Node. From there, the data are sent to the infsoft LocAware platform®, where the device's position is computed.
Practical applications of this technology can include tracking systems in logistics, for example, which can make a decisive contribution to maximizing warehouse operations. When using AoA in conjunction with beacons with a built-in barometric pressure sensor, the positioning system is so precise that not only the shelf, but also the exact rack position in which an item is located can be determined. A solution like this enables precisely locating goods and revealing empty shelf spaces, supporting pickers in making optimal route and picking order decisions. As a result, workers can save time and increase pick rates.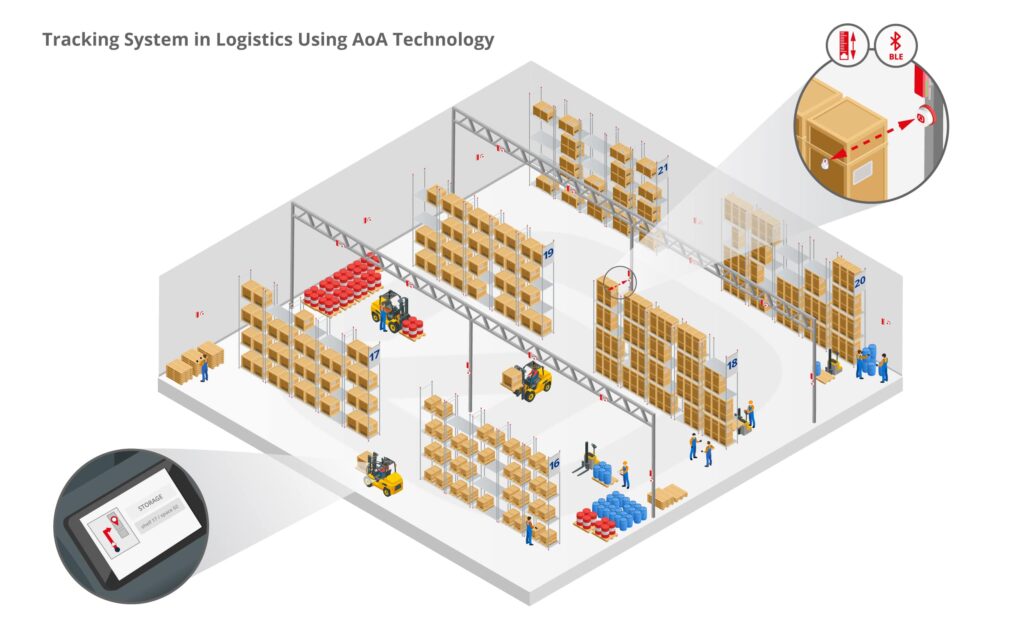 Are you interested in the Angle of Arrival technology? Don't hesitate to contact us – we are happy to answer any questions that you may have.