Bluetooth is at the core of the indoor positioning market. The technology itself is not new; the functionality of Bluetooth has been well-known since the 1990s. But it was the emergence of the energy saving Bluetooth version BLE (Bluetooth Low Energy, Bluetooth Smart) that paved the way for numerous new application scenarios, making Bluetooth an industry standard that is available on most devices today.
INDOOR NAVIGATION USING BLUETOOTH
Since GPS does not work indoors, Bluetooth is a good alternative, and BLE beacons are the go-to choice for indoor navigation applications. Beacons are able to send out Bluetooth signals, but they can't receive them. They are relatively cheap, can run on button cells up to several years and have a maximum range of 30 meters indoors. You can achieve position accuracies of up to one meter. In client-based solutions, positioning takes place on the user's mobile device, ensuring maximum data protection. An app is required and Bluetooth must be activated. A server-based approach (asset or person tracking) using beacons is possible as well (more on this here).
For positioning in client-based applications, several beacons are needed. They can be glued or screwed to ceilings or walls without much effort and can be easily integrated into any environment. The beacons send out unique signals which are used by the smartphone app to determine the position by means of fingerprinting. Via turn-by-turn directions, the user is guided through the building, while his/her position is automatically determined. Using a beacon infrastructure, it is also possible to trigger an action, for example displaying a coupon or information on the smartphone.
APPLICATION AREAS OF BEACON INDOOR NAVIGATION
The advantages of indoor navigation using beacons are extremely diverse. For one, it optimizes the user or customer experience, and secondly, the efficiency of companies and their employees can be improved. Indoor navigation apps with automatic positioning are often implemented in train stations, airports, shopping malls, museums and large office buildings. Such apps can be equipped with other useful features – for example, location or situation-related information that the users receive directly on their smartphone. Most apps contain interesting points of interest and can display barrier-free routes if required.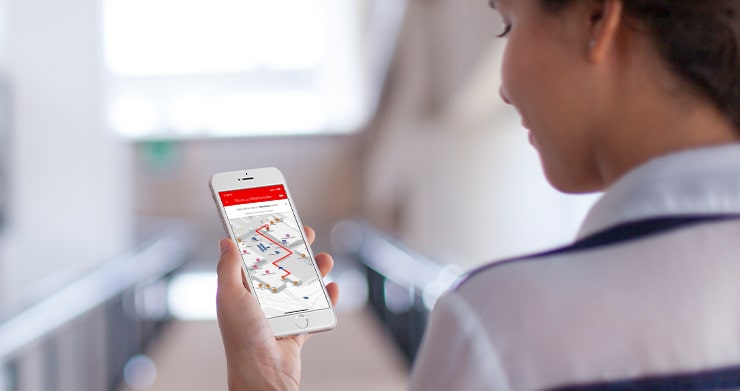 It is also possible to analyze visitor flows. Based on that information, products in shops can be arranged perfectly or walking routes can be optimized. The technical possibilities offer a lot of opportunities to provide the customer, visitor, patient, employee or traveler relevant information at the right time and at the right place.
INSTALLATION OF INDOOR POSITIONING VIA BLUETOOTH
Calibrating the positioning system is as easy as when using Wi-Fi. infsoft provides a calibration app, which clients can use to work independently. infsoft also offers a beacon management tool to monitor battery levels and set up business logics to replace batches in certain areas. We do not sell beacon hardware ourselves, but are happy to put you in contact with beacon suppliers. If you have any questions considering installation and parameterization, don't hesitate to contact us.
PROS AND CONS OF INDOOR NAVIGATION USING BEACONS
Pros:
cost-effective, unobstrusive hardware
low energy consumption
flexible integration into the existing infrastructure (battery-powered or power supply via lamps and the domestic electrical system)
works where other positioning techniques do not have a signal
compatible with iOS and Android
high accuracy compared to Wi-Fi (up to 1m)
Cons:
additional hardware
app is required for client-based solutions
relatively small range (up to 30m)
Bluetooth technology will develop further in the years to come, offering even more precise positioning. This development is particularly driven by the new BLE 5.1 specification and its direction finding feature.