The application possibilities of ServiceNow in conjunction with infsoft tracking solutions are many and varied. For example, in the classic application of ServiceNow the tickets can be linked with geodata to enable localization. In addition, other relevant information, such as the reason why the ticket was created, can be enriched with the position of the defective item. This could be a defective coffee machine, air conditioning or a printer without paper.
---
GEOBASED TICKETS WITH SERVICENOW
To link ServiceNow actions with position data, the area to be covered must first be equipped with beacons. Via interfaces with existing CAFM systems (e.g. Archibus) the position data is linked to building plans, i.e. the geo coordinates (latitude, longitude, altitude) are translated into the room ID (building, floor).
In a native iOS or Android app, infsoft has integrated the ServiceNow application and the user can access the ServiceNow ticketing system. If a ticket is created in the ServiceNow application, it is automatically linked by the infsoft app with the corresponding coordinates. The data transfer can be done via URL parameters, HTTP headers or JavaScript injection. The finished ticket created by the ServiceNow portal is then equipped with the geodata and can be processed efficiently.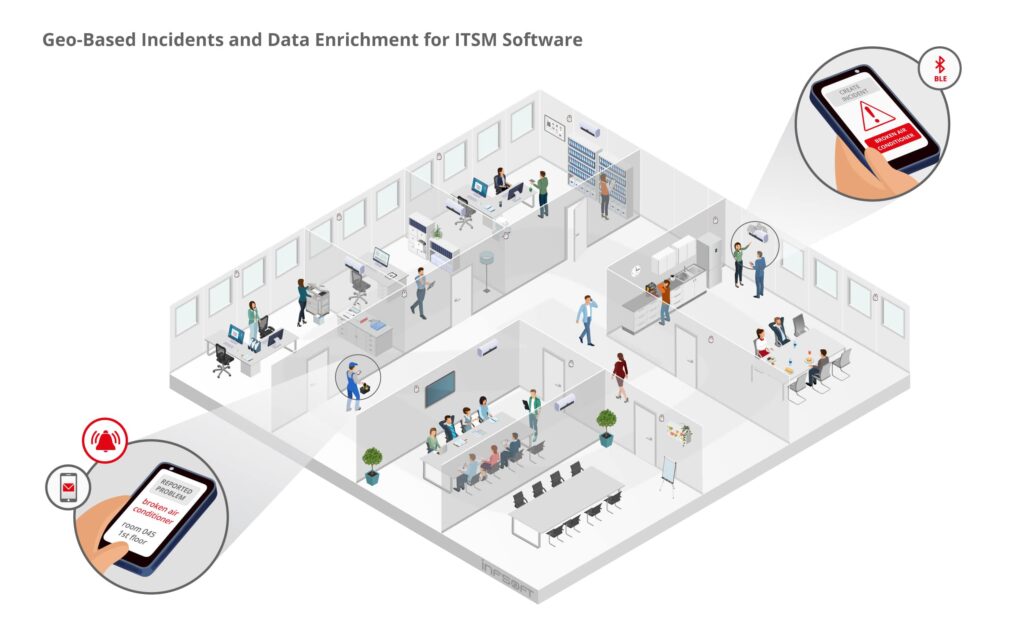 ENRICH SERVICENOW DATA
An interesting possibility arises from the extension of ServiceNow data with the geodata from infsoft. Here POIs can be for example coffee machines, water dispensers or food vending machines, which were added to the building afterwards. Thus, a building map can be extended by these more mobile assets. The user is thus given the opportunity to select an object on a map and create a ticket. The comfort and the use of the ticket system can thus be greatly increased.
ASSET TRACKING AND IDENTIFICATION OF ASSETS VIA BLE TAGS
The combination of ServiceNow and infsoft Tracking can show its full potential with moving objects. In this case moving assets like beamers or projectors are equipped with BLE Tags and linked to the ServiceNow app. Via the native app, the asset can then be selected, and a ticket can be attached to it.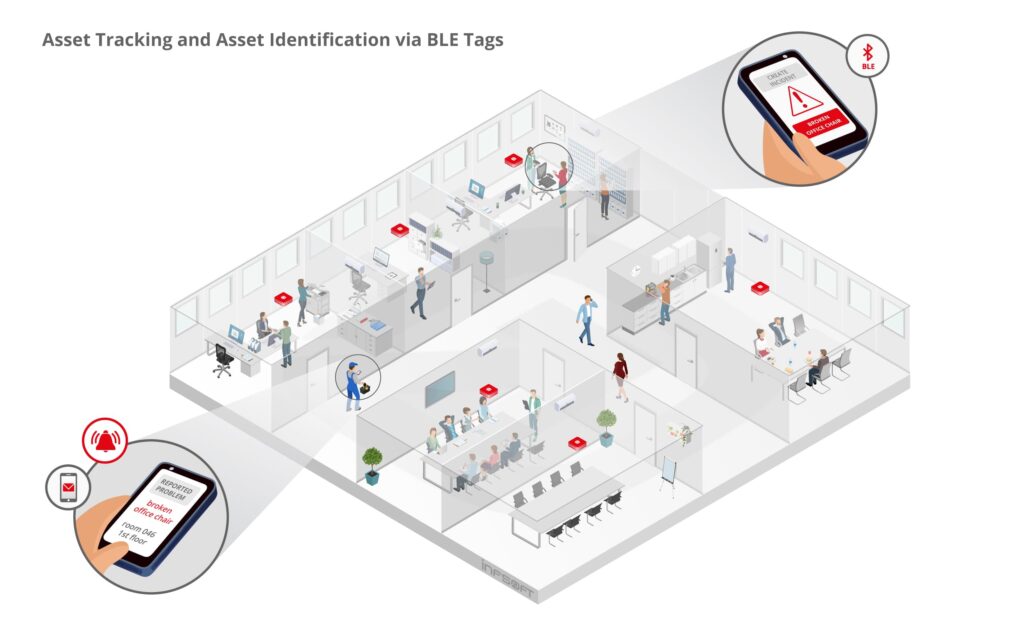 This option offers the advantage, especially with very mobile objects, that a user can quickly find the object to be identified. The ticket recipient can also immediately localize the asset. The data transfer between the infsoft app and the ServiceNow portal is then again done via URL parameters, HTTP headers or JavaScript injection.
Based on this information, the ServiceNow portal automatically fills in fields such as asset UID, asset name, asset image, building, floor or level when creating a new ticket.
---