Beacons in combination with a native app enable the creation of geo-based incident tickets for ITSM software.
AT A GLANCE
incident creation including location data
data enrichment through POI import
PROBLEM DEFINITION
Software solutions for IT service management (ITSM) are enjoying great popularity. However, what the systems lack is location information on the incidents created. For example, if a defect or problem is reported, it can be difficult to locate the device in question quickly and easily, especially in large, extensive office complexes.
SOLUTION
A native app and an interface to infsoft's systems enable the creation of geo-based incident tickets in the ITSM tool. For example, if an employee wants to report a defect of a device, the current position of the user and thus the location of the affected device is automatically transmitted to the ITSM tool upon ticket creation. People working on the incident see the exact building, level and room ID and can address the problem quickly and easily. Furthermore, the data can be enriched by importing POIs and POI information (pictures, description, etc.) from the infsoft CMS.
TECHNICAL IMPLEMENTATION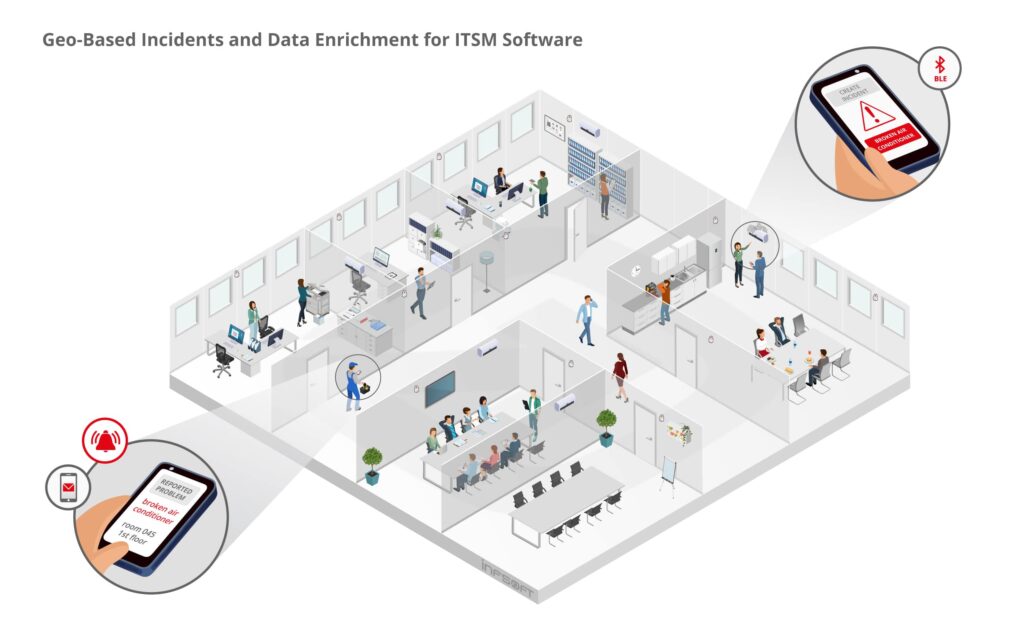 Bluetooth Low Energy (BLE) beacons are installed throughout the area. A mobile app including the infsoft Locator SDK is required to create geo-based incident tickets. The mobile device (smartphone) receives the Bluetooth signals of the beacons installed in the building; the app uses a signal strength measurement for positioning. Via an interface to a CAFM system (building management software), the virtual geo-coordinate is resolved into building, level and room ID and the data is transferred to the ITSM software. The ITSM can now generate a ticket including location information.
Via an interface, the ITSM solution can also import POIs from the infsoft CMS which can then be used to create incidents as well.