An employee app provides intelligent features that help you manage meeting rooms and simplify workflows.
AT A GLANCE
2D/3D building maps
indoor navigation within the office building
meeting room finder including interface to room booking system
"Colleague Finder" to share position on-site
PROBLEM DEFINITION
Office buildings are typically crowded with people, many of them busy finding a free meeting room or a certain colleague. As a result, time is often not used productively and there may be delays in the start of meetings. Moreover, especially in large companies, effective teamwork can be threatened if regular face-to-face contact and spontaneous meetings are decreased.
SOLUTION
A mobile app allows employees to start a route from their current location. Offices and meeting rooms as well as other POIs (e. g. canteen, tea kitchen) can be selected as the navigation destinations. The possibility of sharing your own location with colleagues simplifies making appointments and arranging meetings. Work can be coordinated better and faster and responsibilities and tasks can be delegated.
In addition, it is possible to comfortably reserve the available meeting rooms. The app provides the user with an overview of the existing reservations in the system. All meeting rooms are featured with a detailed equipment profile, so that the user can comfortably make a reservation based on demand.
Furthermore, the solution can be integrated into existing systems to provide users with even more information – e. g. company news, canteen menus and parking information.
TECHNICAL IMPLEMENTATION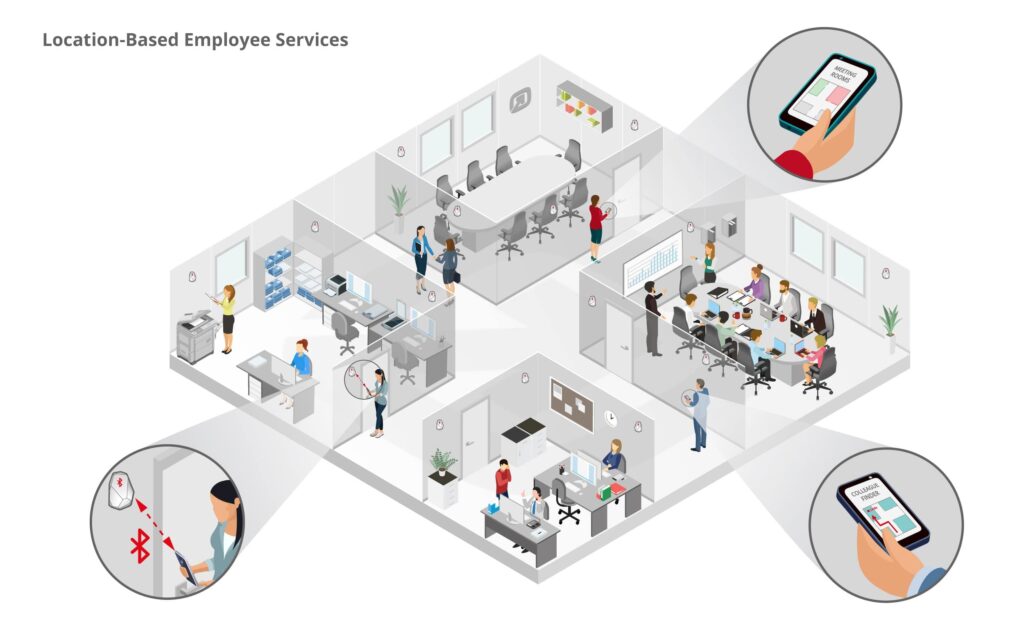 The position is determined via a network of Bluetooth Low Energy (BLE) beacons distributed evenly throughout the office building. The beacons emit signals which the app installed on the user's smartphone uses to calculate the position with an accuracy of 1-3 meters – including floor level. The user is guided to his destination via turn-by-turn navigation.
The "Colleague Finder" function enables sharing your position. If this is activated, app users can see the location of the person they are looking for on the map and can also select him/her directly as a navigation destination or contact him/her via app.
The employee app uses a calendar interface to display an up-to-date overview of all meeting rooms and their occupancy. Information on the technical equipment of the rooms can also be stored in the system.
Up-to-date information such as company news can be sent via an existing back channel to the user's smartphones, e. g. by push notification.