With the help of a tracking solution, the location of workpiece carriers in production facilities and the processing time per work step can be tracked.
AT A GLANCE
precise real-time tracking of workpiece carriers with UWB
recording of dwell and idle times
PROBLEM DEFINITION
In production facilities, workpieces are transported on workpiece carriers along a production line and thereby pass through various work stations. In order to guarantee smooth and efficient processes, it is important for the producers to have reliable information about the dwell times of the workpieces at each individual work station.
SOLUTION
With a tracking solution based on UWB, the position of the individual workpiece carriers along the production line can be determined. Low latency times and a positioning accuracy of up to 10 centimeters are the advantages of a positioning solution using UWB.
Furthermore, it is automatically detected when a workpiece carrier enters a certain, predefined area and when it leaves this area again (geofencing). In this way, the dwell times of the workpieces in the individual work zones and thus the processing time per work step can be determined.
TECHNICAL IMPLEMENTATION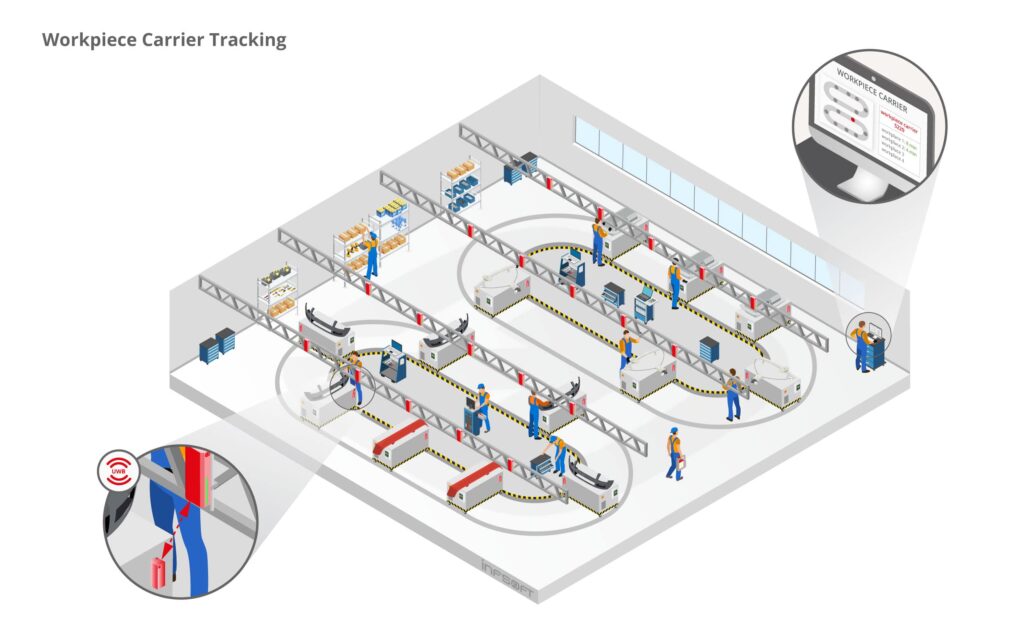 In the production facility, infsoft Locator Nodes are installed above the production line. UWB tags are attached to the workpiece carriers. The UWB tags transmit signals that are received by at least three Locator Nodes. The data is then sent to the infsoft LocAware platform® where the position of the workpiece carrier is determined based on the measured running time of light between the UWB tag and the receivers.
The position of the workpiece carriers can be viewed in infsoft Tracking. With infsoft Automation, geo-based triggers can be defined so that a predefined action is performed when a certain area is entered.