In the age of digital transformation, digitization and automation are on everyone's mind. Particularly in industrial environments, experts are focusing on the trend-setting developments surrounding Industry 4.0, which are intended to intelligently network and sustainably improve the work of humans and machines. Geo-based services can majorly contribute to comprehensive automation. So why is it that real-time localization systems (RTLS) are so popular in the industrial sector?
REAL-TIME LOCATING SYSTEMS IN INDUSTRY & LOGISTICS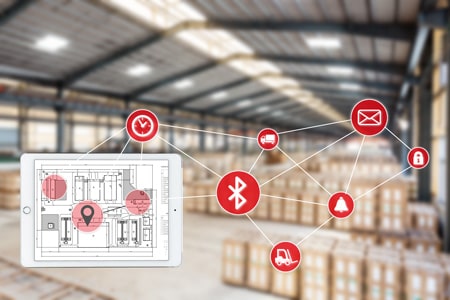 In both industry and logistics, there are usually process sections that are not fully exploiting their efficiency potential. Search efforts reduce the utilization rate of work resources and cause frustration among employees. Also, data-driven processes that provide transparent information are not available in all work areas. As a result, no meaningful analyses can be generated about current operational processes. There is a lack of a holistic solution that enables the monitoring and automation of processes in real time. A suitable concept for addressing this issue is a Real-Time Locating System (RTLS), which can be used to determine the locations of goods, vehicles, and people. An RTLS works in indoor industrial halls as well as in a company's outdoor area.
BENEFITS FOR INDUSTRIAL ENVIRONMENTS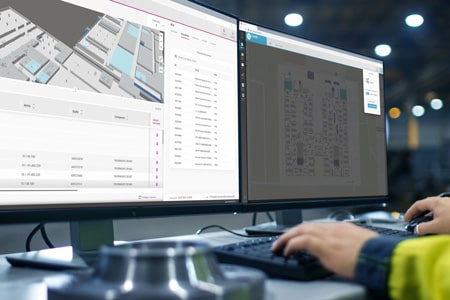 With an RTLS solution, industry and logistics benefit from the optimization of all processes and resources in terms of quality, costs, and flexibility. By recording and monitoring all material flows, it can be ensured that goods and vehicles are available at the right place, at the right time, in the right condition, and in the right quantity. In addition to process optimization, localization technology can also reduce the probability of damage and failure. Indoor tracking offers not only improved productivity but also enhanced security (theft protection, emergency management, etc.) and can be applied in various areas.
POSITIONING TECHNOLOGIES
Several technologies for indoor positioning have been established in the past. Selecting the right option usually comes down to the conditions on site as well as the company's requirements for an RTLS. In addition to Wi-Fi and RFID, there are two other technologies in particular that have become well established and are now used in many industries and fields of application.

Ultra-wideband (UWB): In contrast to other positioning technologies, Ultra-wideband is a lot more accurate (less than 30 centimeters). The integration of UWB costs more, but offers low latency times and works almost interference-free with constant line-of-sight. UWB is particularly suitable for industrial applications with very high precision demands.

Bluetooth Low Energy (BLE) beacons: The small wireless Bluetooth radio transmitters are enjoying a high level of popularity. They can broadcast signals within a radius of up to 70 meters and enable the implementation of a cost-effective RTLS solution. BLE beacons consume little energy, can determine a position with area accuracy, and can be integrated flexibly and unobtrusively into various infrastructures. With the new 5.1 version of the Bluetooth specification, assets can even be localized with an accuracy of less than one meter (with a given line-of-sight).
A SUITABLE SOLUTION FOR EVERY APPLICATION
As a full-service provider, we at infsoft offer comprehensive as well as customized RTLS solutions – not only for industry and logistics but also for many other sectors. Our hardware, infsoft Locator Nodes and infsoft Locator Beacons, enables seamless and accurate localization and can be integrated into any IT infrastructure. Our web-based software tools can be used to retrieve the location, routes, availability and condition of vehicles and assets at any time.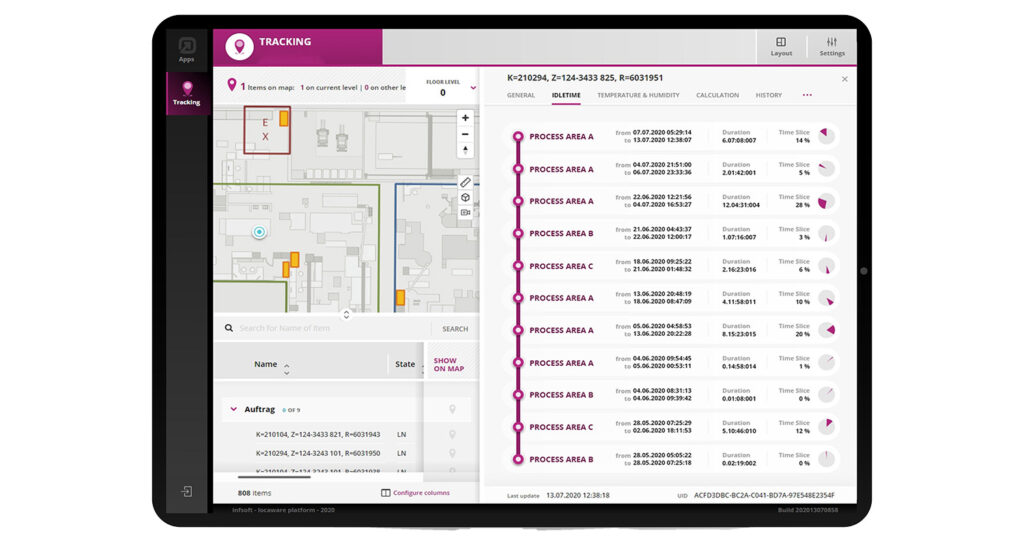 ---
---