Since GPS is not suited for indoor positioning, other positioning technologies are used here. In this blog post, we present the most common technologies, point out their pros and cons, and list common use cases.
---
Real-time locating systems (RTLS) are used to automatically determine and track the location of objects or people in real time. RTLS can be used, for example, to trace pallets in warehouses, to locate medical equipment in a clinic, or to track people for security purposes.
In a server-based localization system, signals from transmitter hardware or mobile devices are received by stationary receiver hardware. The data is then sent to a server and the position is calculated. The most common positioning technologies include Wi-Fi, Bluetooth Low Energy (BLE), Ultra-wideband (UWB) and RFID.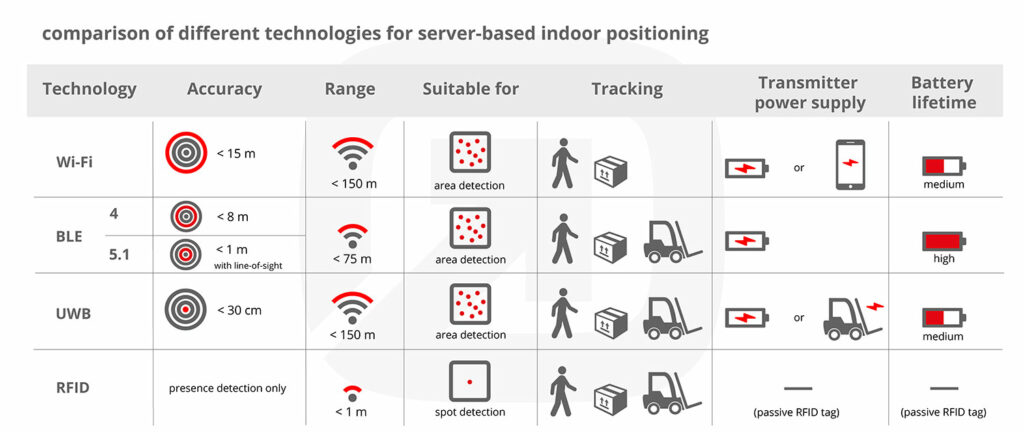 WI-FI
Wi-Fi based positioning systems determine the location of devices with activated Wi-Fi (e.g. smartphones, tablets) and Wi-Fi tags. The accuracy of Wi-Fi for server-based indoor positioning varies from eight to 15 meters. The achievable positioning accuracy depends on conditions such as reflection in corridors and the shielding of signals from walls or the user's own body.
Pros
all Wi-Fi enabled devices can be tracked, even without logging into the Wi-Fi network
under certain circumstances, the existing infrastructure can be used (e.g. Cisco DNA Spaces)
Cons
relatively inaccurate (8-15m)
Use of randomized MAC addresses when devices are not connected to a Wi-Fi network
high energy consumption of Wi-Fi tags
Use recommendation

Analysis of movement profiles (e.g. for events or in a shopping center).
Relevant use case

Tracking Visitor Flows in Stadiums
BLUETOOTH LOW ENERGY (BLE)
Beacons are small wireless radio transmitters that use Bluetooth Low Energy to transmit data. They are relatively inexpensive, can operate for up to five years or more on a button cell battery, and have a range of up to 70 meters indoors. Beacons come in a variety of shapes (tags, ISO cards, wristbands, etc.), are scalable and very portable.
Accuracy is typically less than eight meters with Bluetooth 4. The new 5.1 version of the Bluetooth specification enables direction finding use cases and can locate assets with an accuracy of less than one meter (if a direct line of sight is given).
Pros
hardware is cost-effective and unobtrusive
low energy consumption
accuracy is sufficient for most applications
Cons
attenuations in the signal dispersion within buildings
Use recommendation

Beacons can be used for indoor tracking solutions in a variety of industries from industry to hospitals and offices. In addition to tracking assets, the technology can also be used to track people.
Relevant use cases
ULTRA-WIDEBAND (UWB)
Ultra-wideband is a short-range radio technology. The positioning accuracy is less than 30 centimeters, which is significantly higher than what can be achieved using beacons or Wi-Fi. Differences in altitude can also be determined very accurately. Furthermore, very low latency times can be realized.
Pros
high accuracy
accurate measurement of height differences
low latency times
almost interference-free with constant line of sight
Cons
cost-intensive
shorter battery lifetime than BLE beacons
Use recommendation

Tracking solutions in industrial environments with high precision requirements and low number of assets.
Relevant use cases
RFID
RFID uses radio waves to identify objects. Passive RFID technology only works in the vicinity of special RFID readers, which generate an energy field and activate the RFID tags. Information exchange can only take place when the reader and RFID tag are no more than one meter apart. The technology only allows localization at a specific point (where the reading unit is located).
Pros
low costs per asset
no battery required
Cons
short range
only providing a "point-in-time" location
installation requires significant planning
infrastructure can be expensive
Use recommendation

Tracking solutions with a large number of assets (e.g. in logistics, distribution and inventory management) or access control systems.
Relevant use case

Tracking of Disposables in a Laboratory
CONCLUSION
The choice of the most suitable technology depends on several factors. These include the (precision) requirements for the system, the conditions on site, the number of assets to be tracked, and the budget.
We are happy to help you choose the right technology for your project. Contact us.