Bluetooth Low Energy (BLE) is one of the best known and most popular positioning technologies and is used in a wide range of localization projects. A major strength of the technology is that the beacons that are used are available in a wide variety of forms. Whether for indoor navigation, asset tracking or the analysis of movement flows – there is a suitable beacon for every use case and every industry. In the following article, we present specific beacon types and their characteristics, as well as concrete application scenarios.
---
When using beacons, a distinction must be made between two basic application types. The first scenario is client-based positioning (e.g., indoor navigation). For this purpose, basic beacons, also known as BLE tags, are attached to walls or ceilings and regularly emit signals that are detected by mobile devices. The position is then determined directly in an app on the end device.
The second area of application is server-based localization (e.g. asset tracking). For this purpose, the beacons are attached to mobile assets (objects, vehicles, etc.) or are carried by people. In this scenario, the emitted signals are received by fixed receiver hardware and the information is forwarded to the backend where the position is then determined.
Beacons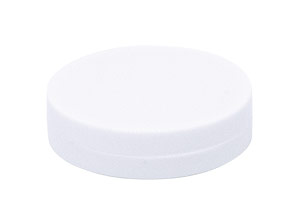 In order to track the location of mobile objects, in most cases BLE tags are attached to the objects to be tracked. These beacons can be used, for example, to locate medical equipment in hospitals, goods in logistics, vehicles on industrial sites or work equipment in offices. There are a large number of manufacturers on the market who offer beacons in different forms and sizes and with different features. For industrial applications, for example, it may be important to use particularly resistant beacons with a high IP protection class.
This type of beacon can also be used for indoor navigation solutions. Their small size, simple design and easy mounting on ceilings and walls make them suitable for most environments.
Use Case: Asset Tracking at the Airport
Use Case: Indoor Navigation in Public Buildings
Sensor Beacons
Beacons can optionally be equipped with various sensors. Beacons with temperature and humidity sensors, for example, can be installed to monitor the room climate. Beacons with motion sensors can be used, among other things, in applications in which the room utilization and occupancy of individual desks is to be determined.
Use Case: Room Environment Monitoring in Offices
Use Case: Workplace Occupancy Sensing
Beacon Wristband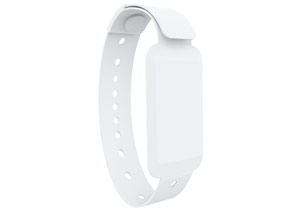 Beacon wristbands offer great advantages, especially in healthcare facilities. For example, they can be worn by persons suffering from dementia in order to protect them from leaving the ward or clinic on their own. When a patient wearing a wristband approaches an exit, the staff can be notified automatically. The wristband also offers greater safety for children who move around independently, for example on a cruise ship or in a hotel.
In addition, the wristband can be equipped with a motion sensor which allows them to register falls. Wristbands from some manufacturers also come with a cut-off alert, which triggers a message as soon as the wristband is cut or torn off.
Use Case: Increased Safety for Dementia Patients in Nursing Homes
Beacon Card
Beacons in the form of ISO cards are particularly suitable for locating people, as they are very small and can be carried around easily. They can be used, for example, to record flows of movement at trade fairs. Furthermore, the card can be used for access authorization. If a beacon card is registered in the vicinity, a door can be unlocked automatically.
To increase safety at particularly high-risk workplaces, a warning can also be triggered as soon as an employee carrying a card enters a dangerous area.
Use Case: Tracking of External Employees
infsoft E-Ink Display Beacon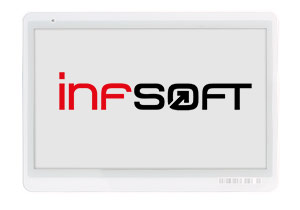 E-Ink Display Beacons can be used for digital signage and labeling of rooms, lockers, containers in industry, routing slips and much more. They can be labeled wirelessly via Bluetooth Low Energy. As a result, they contribute to the automation of processes and increased transparency at the workplace. Depending on the application, it is also possible to locate the hardware.
Use Case: Digital Labeling of Lockers
infsoft Locator Beacon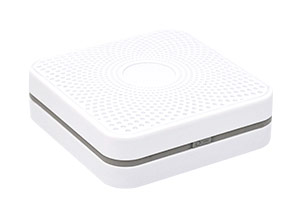 Locator Beacons are fixed in the building and receive signals from mobile beacons. The data is then forwarded to the backend. There, the positioning and intelligent processing of the data takes place. Locator Beacons can also be used for indoor navigation.
Use Case: Automatic Time Recording at Workstations
Use Case: Positioning and Condition Monitoring of Hospital Beds
infsoft Road Stud Beacon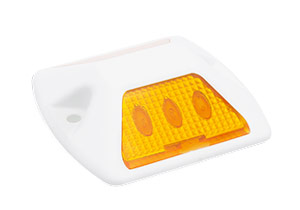 Road Stud Beacons provide the same functionality as Locator Beacons. Their advantage is that they can also be installed on the ground and outdoors. This is especially useful when there are no walls, pillars and the like nearby where the beacons could be installed. Moreover, they are resistant and will not take any damage even if they are run over by a vehicle.
infsoft Smart BLE Plug
This hardware component measures the energy consumption of a connected device and sends the information to the backend via Bluetooth. By reliably controlling energy consumption, it is possible to reduce it and save costs.
Use Case: Energy Monitoring and Control via BLE Socket