Indoor positioning technologies for client-based solutions – which one is perfect for you?
INDOOR POSITIONING TECHNOLOGIES – WHICH ONE FITS MY NEEDS?
In the last couple of weeks we introduced various techniques for indoor positioning to you in our blog.
INFOGRAPHIC: PROS & CONS OF INDOOR POSITIONING TECHNIQUES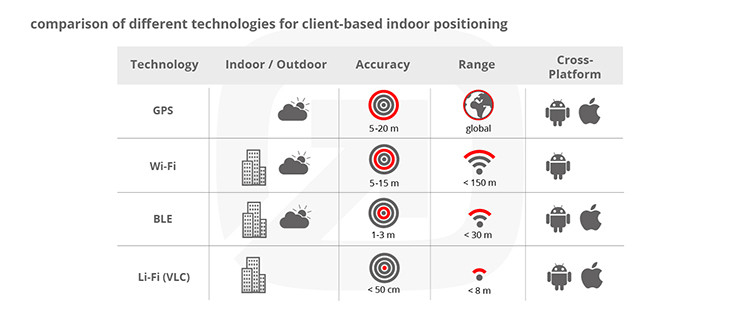 Each one of these technologies has its pros and cons and in many cases they can complement each other. We have summarized GPS, Wi-Fi, Bluetooth/Beacons and VLC with an infographic in order to make them better comparable. If you like the infographic, please don't hesitate to show it to your colleagues or share it on Facebook, Twitter etc. If you have questions concerning indoor navigation, we will be happy to help you (contact us here) personally or on our new information portal www.indoornavigation.com.