A tracking system allows locating personnel in real-time, ensuring workplace safety and enhancing productivity.
AT A GLANCE
visibility of employee location

geo-based order management
PROBLEM DEFINITION
Occupational protection and employee safety are major priorities, especially in industrial enterprises. Staff often work out of sight and call range of other people and are therefore exposed to a slightly increased risk potential. Also, in many cases work processes are not adapted to the current locations of the employees. Companies are turning to digital support to ensure the safety of their workforce and streamline operational processes.
SOLUTION
An advanced tracking solution offers visibility of worker location, provides safety features, and boosts operational productivity. Real-time and historical data can be analyzed by management for optimization and improvement of production and operational costs. Tasks can be assigned based on the current location of the employee. Smart Bluetooth wristbands enable location tracking and offer integrated motion sensors as well as an SOS button that can be pressed in case of an emergency to transmit an alert including the employee's current position. Zone-based actions can be initiated whenever a tracked worker enters, exits or dwells within a defined area (geofence).
TECHNICAL IMPLEMENTATION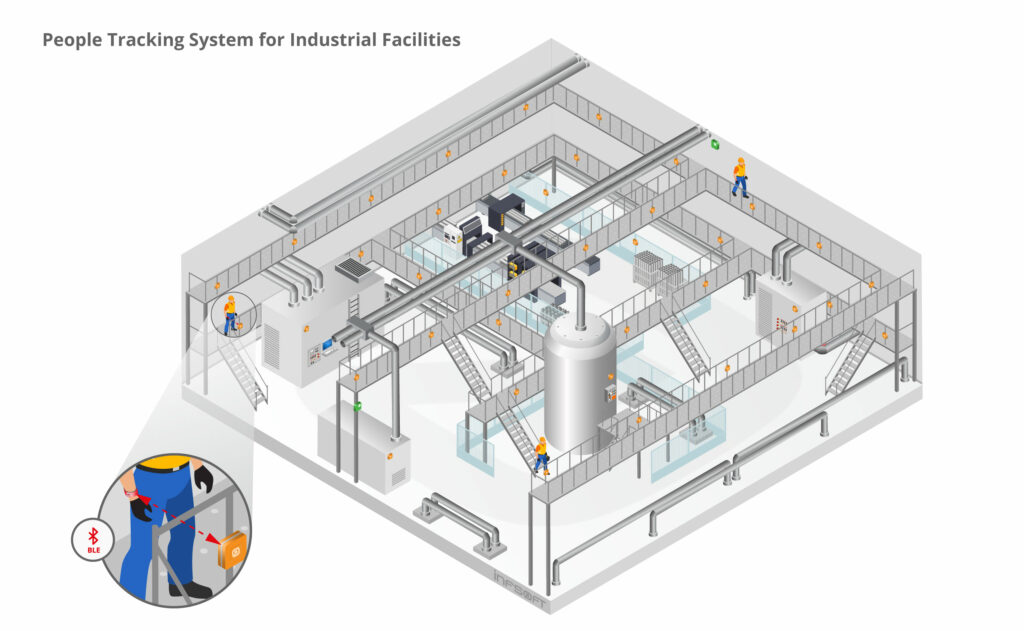 infsoft Locator Beacons and infsoft Locator Nodes 1400 are installed throughout the building. Workforces are equipped with Bluetooth Low Energy (BLE) wristbands that are running the firmware of infsoft Locator Beacons. These wristbands detect Bluetooth signals of the fixed Locator Beacons and transmit the data to an infsoft Locator Node. From there, the data is sent to the infsoft LocAware platform® for positioning. The wristbands can be easily recharged overnight.
Current employee locations can be viewed in infsoft Tracking. Individual action logics are defined using infsoft Automation.