A tracking solution in the automotive industry maps container movements in a fully automated process and guarantees an optimized and efficient material supply.
AT A GLANCE
real-time container localization
fill level measurement via ultrasound
definition of triggers based on location and fill level
PROBLEM DEFINITION
In automobile production, numerous transport vehicles travelling in a network ensure that assembly stations are supplied with sufficient spare parts on a daily basis. In many cases, material supply is not provided on time due to transport delays, which can lead to production line stoppages and increased production costs. In addition, full and empty containers are often not placed correctly on the designated areas, leading to delays in the process flow.
SOLUTION
Container management helps to achieve a consistently automated flow of goods and makes the synchronous supply of production lines more efficient and cost-effective. A fully automated tracking solution maps all container movements – the location of the containers can be tracked seamlessly via Bluetooth Low Energy (BLE) from the loading of the route train to the individual stations on the production line to the unloading station. This ensures that the right products are transported to the right place at the right time.
An ultrasonic sensor uses level measurement in order to guarantee complete loading and unloading, correct placement of full and empty containers, and just-in-time delivery of material. For example, if the fill level falls below a defined value, a work order is triggered for providing a new, full container and picking up the empty container. If containers are placed incorrectly, a forklift driver receives instructions for repositioning, including location data of the containers concerned.
TECHNICAL IMPLEMENTATION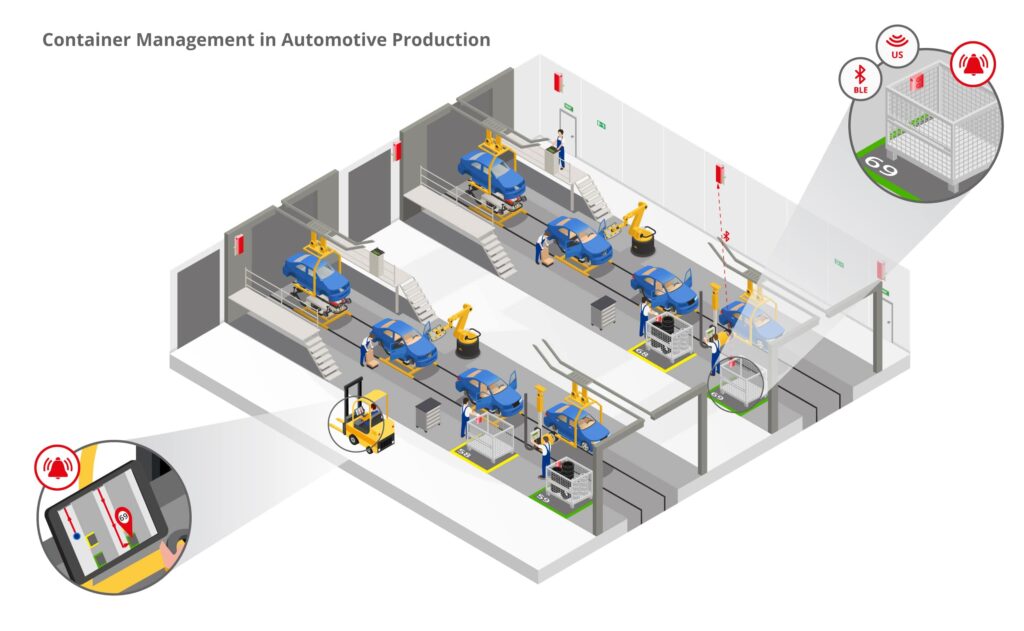 infsoft Locator Nodes are installed throughout the entire area. Sensor tags with ultrasonic sensor and Bluetooth Low Energy (BLE) module are attached to the containers.
The ultrasonic sensors determine the fill level in the containers via distance measurement. The Locator Nodes receive the scan data of the tags via Bluetooth and transmit them to the infsoft LocAware platform®. Here, the data is processed and the position of the tag is determined. Using a mobile app or browser application, employees can access the data and view the locations of the containers including status information on a map. The fill level and position data are linked to conditions in the Automation Engine, allowing notifications or orders to be triggered to employees, for example when fill levels fall below a certain level or containers are placed incorrectly.