Tracking the routes of order pickers can greatly reduce operational costs and the amount of time spent order picking.
AT A GLANCE
server-based localization of order pickers
analysis and optimization of picking tours
PROBLEM DEFINITION
Picking processes account for a large proportion of the total cost of ownership of warehouses and distribution centers. Maintaining organized order picking is the key to maintaining operational productivity. Managers failing to take measures to optimize warehouse picking may result in unnecessary picking processes and increased manpower and resources.
SOLUTION
A tracking system makes it possible to trace order picking routes and increases the transparency of order picking processes. The solution contributes to route optimization and supports the identification of ideal picking tours.
Employees carry Ultra-wideband tags with them during their shift. The solution provides for twice as many UWB tags as employees. Charging the tags that are not in use ensures that enough tags are available at all times. In the backend, employees' routes are visualized and can be used for extensive reporting and evaluation options. The current order and the optimal picking sequence are displayed to the pickers via a smart device.
Based on the analyses, the picking routes can be optimized. The shorter throughput time allows for more orders to be processed and higher sales to be achieved.
TECHNICAL IMPLEMENTATION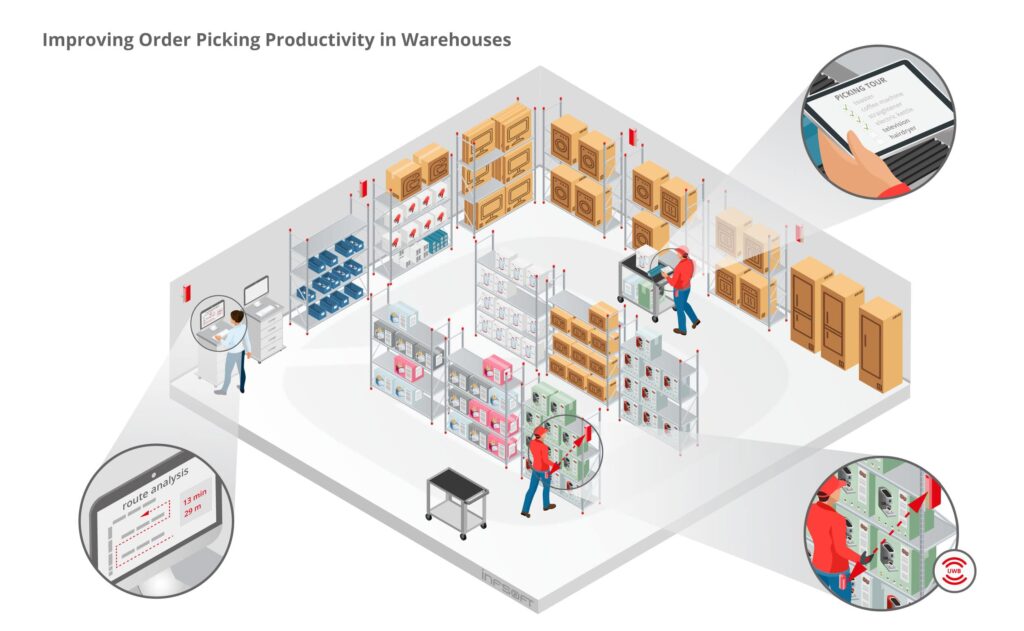 infsoft Locator Nodes are installed in the warehouse. The employees carry UWB Locator Tags with them, which are recharged when not in use. For positioning, the Locator Tag measures the distance to several infsoft Locator Nodes and sends the data back to them. From there, the data is forwarded to the infsoft LocAware platform®, where it is intelligently processed and can be used for analysis purposes. Using an app, order pickers can view the optimal tour for their order.
The extensive functions of infsoft Analytics make it possible to measure the success of the picking processes and to uncover optimization potential. Interfaces to ERP or WMS systems can be easily implemented.