A mobile app for maintenance service providers ensures that all necessary work equipment is carried in the service vehicle.
AT A GLANCE
client-based localization of work equipment
automatic material cross-checking via app
PROBLEM DEFINITION
For maintenance service providers, it is essential that they always carry the right equipment with them on their assignments. Forgotten material causes additional trips and costs. Manually checking the loaded equipment against previously created checklists would be an option, but is neither time-saving nor error-proof.
SOLUTION
A mobile application automatically checks whether the employee has loaded the necessary equipment into their vehicle. If items are missing, the app user receives a push notification on their smartphone. The solution involves attaching Bluetooth beacons to the equipment. This not only allows the smartphone to detect the work equipment but also to assign additional information to it, such as the date of acquisition.
TECHNICAL IMPLEMENTATION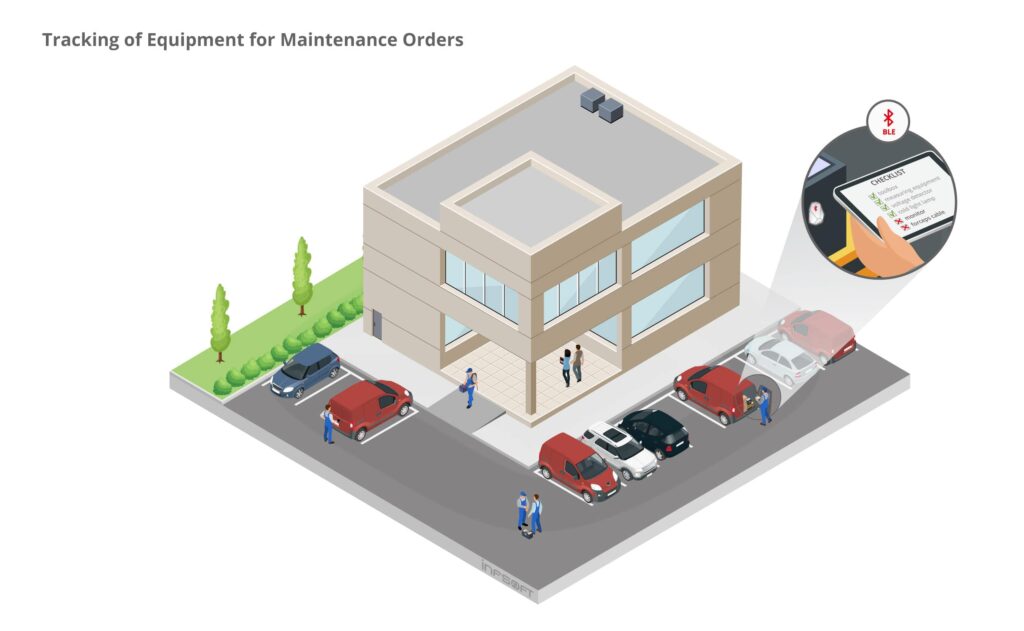 Bluetooth Low Energy (BLE) beacons are attached to the work equipment. An app installed on the maintenance technician's mobile device scans for beacons in the vicinity and automatically compares the detected items with a checklist of materials required for the job. In the app, the user can see whether all the required items are in the vehicle or which equipment is still missing.
---
Carrying out maintenance jobs on site can also be facilitated with the help of an app.