infsoft Locator Beacons are very popular hardware components that are used in a large number of our tracking projects. They integrate effortlessly into the infrastructure of a Real-Time Locating System (RTLS) and impress with their long battery life and low installation requirements. Using infsoft Locator Beacons can significantly reduce the hardware requirements and costs of a beacon-based tracking system. Another major advantage is that the Locator Beacons can be used not only as receiver hardware for asset tracking projects, but also as a transmitter component for indoor navigation systems. In this article, we will tell you everything you need to know about infsoft Locator Beacons: we will go into more detail about installation and functionality, introduce new models of the Locator Beacon and give application examples from different industries.
SETUP AND ADMINISTRATION OF LOCATOR BEACONS
infsoft Locator Beacons are mounted on the ceiling in areas of the building that are relevant for tracking. A two-hole magnetic mount developed by infsoft can be used to further facilitate the installation process. The Locator Beacon Setup app can be used for on-site geo-referencing of the Locator Beacons. The Locator Beacons are easily identified via a QR code that contains, among other things, the MAC address of the Locator Beacon.
The web-based software tool infsoft Locator Beacons can be used to manage the Locator Beacon hardware deployed within the location. For example, the battery status is displayed and parameters such as the scan and sleep time of the Locator Beacon can be set. Over-the-air firmware updates are also possible.
FUNCTIONALITY: MATCHING BASED ON SIGNAL STRENGTH
An asset tracking system using infsoft Locator Beacons requires a small number of infsoft Locator Nodes in addition to the Locator Beacons. In most buildings, one Locator Node per floor is sufficient. The objects to be tracked (assets) are equipped with Bluetooth Low Energy beacons (asset tags). The Locator Beacons are programmed to receive the Bluetooth signals emitted by the asset tags at regular intervals (typically every two minutes). The captured data is forwarded to an infsoft Locator Node and from there to the infsoft LocAware platform®. Here, the information can be processed and the asset's position is calculated. Locator Beacons can be used wherever low latencies (position updates every two minutes) are unproblematic for the use case.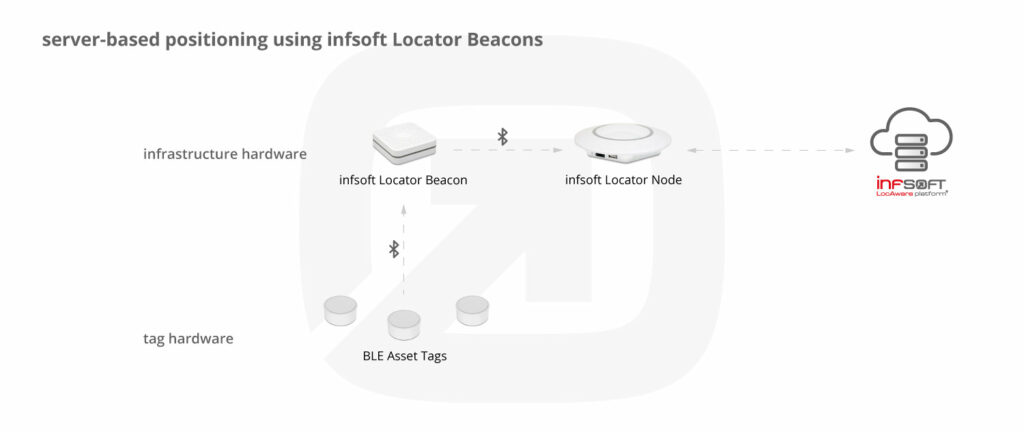 The positioning is not based on trilateration (signal strength-based measurement of the distance to at least three transmitters), but on a signal strength-based assignment to a Locator Beacon's position. This means that the asset's position is projected to the location of the Locator Beacon that measures the highest signal strength (and which therefore is closest to the asset). It can also be configured to display the asset's position on the map at some distance from the installation point of the Locator Beacon. This is useful, for example, if the Locator Beacon was placed in the corner of a room. The position accuracy depends on the installation density. As an example: if the Locator Beacons are installed every five meters, an accuracy of about 2.5 meters is achieved; with eight meters between the Locator Beacons, the position accuracy declines (approximately four meters).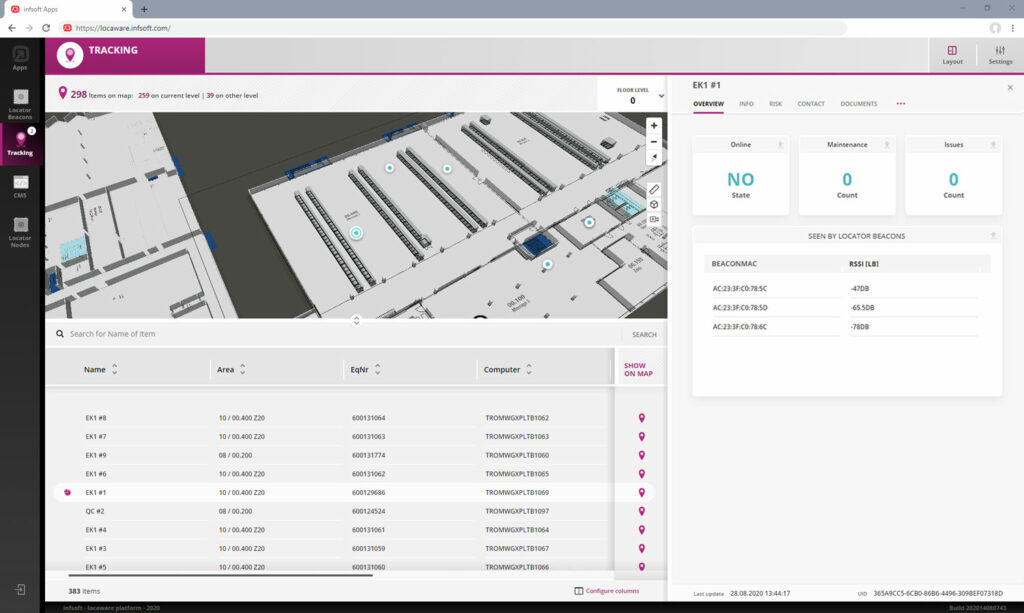 NEW: INFSOFT LOCATOR BEACON ROAD STUD AND INFSOFT LOCATOR BEACON SMART PLUG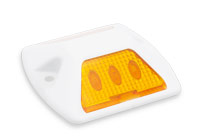 We recently introduced two new hardware products: the infsoft Locator Beacon Road Stud and the infsoft Locator Beacon Smart Plug. Both are based on the Locator Beacon firmware. The Locator Beacon Road Stud is characterized by the fact that it is installed on the floor and not on the ceiling. It is extremely resistant to weather conditions and can withstand weights of five tons and more. This makes Road Stud beacons ideal for reliable localization across wide open spaces, such as industrial sites.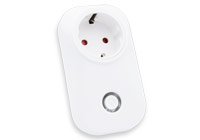 infsoft Locator Beacons Smart Plug have a different function: they create transparency about energy consumption and costs and enable efficient energy management. Unlike Locator Beacons and Road Studs, the Smart Plugs are connected to the power grid, which is why they are not subject to latency limitations. The Smart Plugs enable continuous collection of power consumption data.
APPLICATION EXAMPLES
There are many scenarios where a tracking system based on Locator Beacons can be useful and beneficial. Here are a few examples:
Inventory The use of infsoft Locator Beacons can result in reduced search times for assets and minimized risk of loss and theft. For inventory management, room- or area-accurate localization is usually sufficient (Is asset XY currently in stock? In which room is it located?). In addition to the location, other relevant data such as acquisition date and status information can also be retrieved. Suitable use case: Inventory of Assets in an Office Building
Time Recording at Workstations If you want to know which workstation an asset has been on for which period of time, this can be easily realized with the help of Locator Beacons. By installing a Locator Beacon at each workstation, the location of the asset can be uniquely assigned to a workstation. This method is particularly relevant for the documentation of process steps. Suitable use case: Automatic Time Recording at Workstations
Seamless Tracking on an Industrial Site By combining infsoft Locator Beacons (installed indoors) and infsoft Locator Beacons Road Stud (attached to the ground outdoors), goods on an industrial site can be reliably located even in wide open spaces. Suitable use case: Indoor and Outdoor Tracking on an Industrial Site
Energy Monitoring and Control By wirelessly transmitting power consumption data from infsoft Locator Beacons Smart Plug to the infsoft software tools, historical and current data can be viewed at any time. Devices with a high power consumption can be easily identified, and energy-saving profiles can be stored to take individual or all devices off the grid at specific times. Suitable use case: Energy Monitoring and Control via BLE Socket
---
Do you have further questions about infsoft Locator Beacons or would you like to know if they are suitable for your project? Please feel free to contact us!