Within the hectic daily work routine in healthcare facilities, processes often do not flow ideally. Among other issues, long search times for medical equipment and shortages of hospital beds are on the daily agenda. As a result, patients experience long waiting times and staff spend a considerable amount of time on non-essential tasks, such as searching for a vacant hospital bed.
In order to improve internal processes in medical facilities, increase competitiveness, relieve staff and increase patient satisfaction, a tracking solution and intelligent process management can be implemented.
Tracking of medical equipment
In hospitals, mobile assets of all sizes, from endoscopes to ultrasound equipment to beds, can be tracked. For this purpose, the assets to be tracked are equipped with BLE tags (beacons). These are available in a variety of sizes and shapes. Additionally, it is possible to view status information of the assets (e.g. "in use", "cleaned", etc.) or information about upcoming maintenance dates.
Such an application offers many advantages for operators and employees. These include the reduction of search times, which frees up capacities for more important activities. In addition, usage and utilization analyses of the individual devices can be carried out. This, in turn, contributes to making data-based decisions, e.g. on new purchases. Bottlenecks in terms of staff deployment and availability of medical equipment are also avoided and cost savings can be realized.
People tracking in healthcare facilities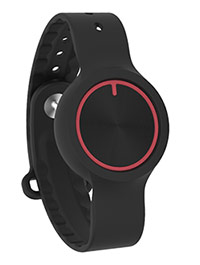 Another possible application in healthcare is people tracking. For this purpose, people can wear beacon wristbands. This solution can increase the safety of patients in particular. It can be ensured that endangered persons (e.g. dementia patients) do not leave their ward or the building. In the event of an emergency, people can also press a panic button on the wristband. A message including the location is then sent to the responsible personnel and the person in question can immediately receive assistance.
Optionally, this application can also be used to track the walking routes of personnel. Based on this data, further optimization of processes can be achieved.
Process automation
Processes can be optimized not only manually based on the collected data, but also automatically with the help of infsoft Automation. Within this software tool, different triggers and the actions they initiate can be defined. These can be defined in a wide variety of ways and individually configured to meet the client's needs.
Examples of triggers include geo- and time-based triggers; if a connection to the bed software exists, a patient climbing out of bed can also serve as a trigger. Furthermore, changes to entries in the CMS, a low battery status of a device and much more can trigger actions.
Possible actions include alarms, sending messages, locking doors and much more.
The individual triggers and resulting actions can also be linked together as desired. The integration of third-party systems extends the possibilities of individual triggers and actions even further.
If you're looking for a solution to help you reliably manage your assets and to make your healthcare facility's processes more efficient and automated, take a look at our products infsoft MedEquip Tracking and infsoft People Tracking: