Maintaining and improving the employee experience (EX) is a major concern for many companies. In the age of New Work, enterprises turn to digital solutions for help. Providing staff with a strong user experience in the workplace can increase the overall business value in the long run. Our product infsoft Workplace Experience follows a holistic approach, where both the workforce and the company benefit from being connected to the office environment. The solution is available not only as a mobile application but also as a progressive web app (PWA). As such, it is accessible via a web browser on any device and from any location. The progressive web app includes all the functionalities of the native app except for real-time localization.
Features of infsoft Workplace Experience

When using the native app, orientation is facilitated for employees, visitors, and guests by offering on-site navigation. In addition to the classic navigation solution, the integration of a colleague finder function is also possible.

Users can find cafeteria locations and menus in the application, including filtering options and utilization information.

Occupancy information and real-time availability are an essential part of infsoft Workplace Experience. Users receive information about available rooms and can book them via the application.

Issue reporting via ITSM software (e.g., ServiceNow) can be integrated into the app, allowing tickets to be created regarding repair and cleaning tasks, for example. It is also possible to automatically assign a geo-reference (e.g., room number) to the tickets.

Users can access travel and mobility information such as public transportation schedules, available parking spaces, shuttle schedules, and e-bike parking spaces in the native app or progressive web app.

The app / PWA can include features that promote internal communication and networking with colleagues (personalized corporate messaging, skill finder, and more).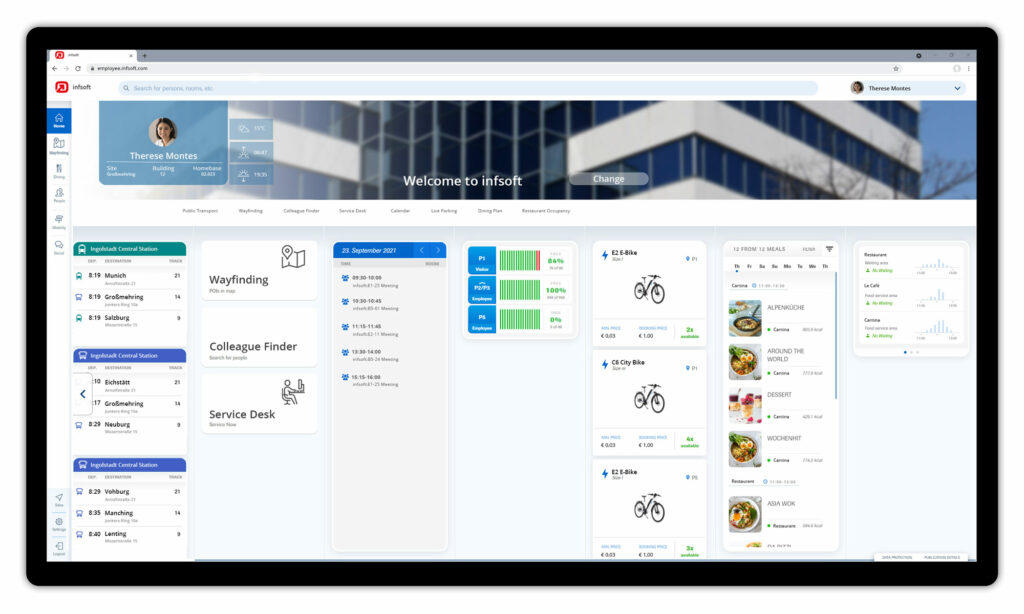 We implement digital workplace experience solutions for large enterprises. API interfaces allow the connection of third-party systems. The presented features of infsoft Workplace Experience can be extended upon customer request – please feel free to contact us.