A tracking solution can help visualize and actively monitor asset locations, increasing passenger satisfaction while improving staff efficiency and lowering costs for airport operators.
AT A GLANCE
real-time localization of wheelchairs and baggage carts
theft protection and utilization analysis
PROBLEM DEFINITION
Airports are receiving up to several hundred requests for wheelchairs daily. As the demand for wheelchair service is rising, so are the delays for passengers waiting for assistance. Other important assets for airports are baggage carts. A lot of personnel are required to collect carts and return them to areas where they are needed. Still, carts sometimes run out when passengers need them. Lost or misplaced assets – whether they are wheelchairs or baggage carts – can cause enormous costs each year.
SOLUTION
A real-time tracking system creates visibility of important assets and can be used to significantly reduce costs associated with managing them. The solution captures the movements of wheelchairs and carts in relevant areas and ensures they are available for passengers when needed. The system also helps to better understand how the items are utilized. It aids in predicting high-demand times and enables adjusting the staging of carts and wheelchairs accordingly.
Responsible staff can view the assets' locations at any given time in a web application. A mobile app can also be used, for example by wheelchair assistants in order to view the locations of all wheelchairs and find the nearest available one. Notifications can be triggered, such as alerting staff if an asset leaves a defined area (theft protection) or if the number of carts becomes low in places where they are needed the most (e.g. departures and baggage-claim areas). Furthermore, the solution can help to reduce the number of problematic carts or wheelchairs onsite by identifying assets that need repairs on a frequent basis.
TECHNICAL IMPLEMENTATION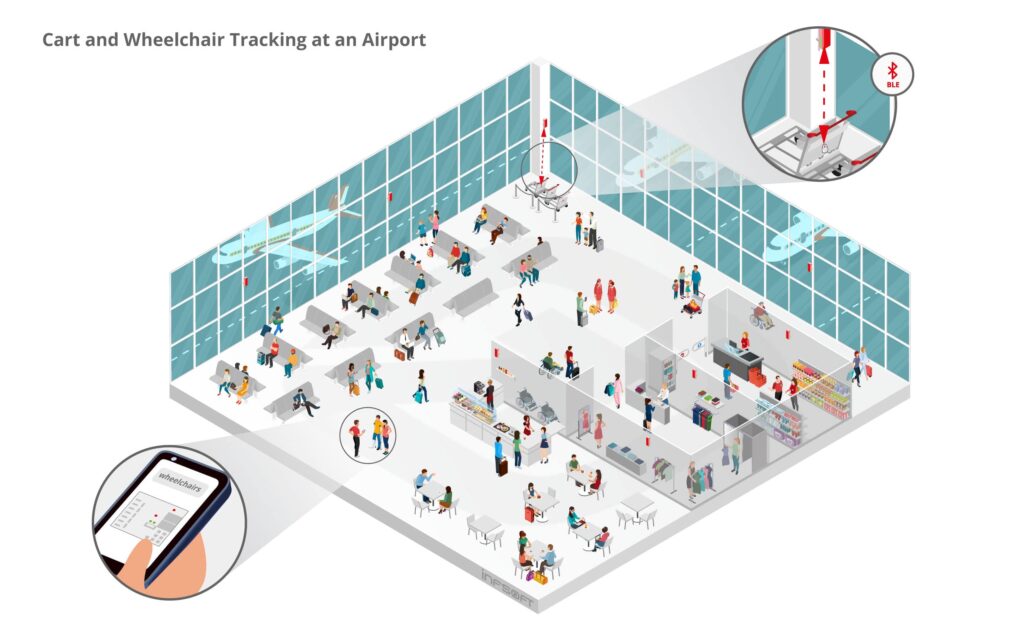 infsoft Locator Nodes are installed across the airport buildings. Bluetooth Low Energy (BLE) beacons are attached to the assets to be tracked. The Locator Nodes receive the beacons' Bluetooth signals, process the provided data and transmit it to the infsoft LocAware platform®. Here, the position of each asset is displayed on a map and motion statistics can be retrieved.
Via infsoft Tracking, attributes such as the next maintenance date can be assigned to the beacons and can be searched for. Using the infsoft Automation Engine, the location data can be linked to conditions, so that actions such as sending alert notifications can be triggered automatically. Significant figures can be called up via infsoft Analytics and can help to uncover potentials for further process optimization.